On his birthday, Ari Behn was laid to rest at Our Savior's Cemetery in Oslo. The closest were present at the urn reduction.
The beloved author and artist and princess Märtha Louise's ex-husband died on December 25, 2019. He was born on September 30, 1972 and would have turned 48 on Wednesday.
– I can confirm that there has been a urn reduction for Ari today. It is no coincidence that today's date is chosen. It was a private urn reduction with those closest to them present, Geir Håkonsund, the Behn family's spokesperson, tells VG.
It was Dagbladet that first mentioned the ceremony.
After the ceremony for those closest to her, Aris' artist friends drew up to the grave site. Only the same day did they learn about the urn reduction.
– We were to meet tonight to share memories of his birthday. It is beautiful and special that he gets his grave on the same day. Nice in a weird way, says best friend Per Heimly (48).
Earlier Wednesday, he wrote a tribute to him on Instagram: "You were somehow never very good at celebrating your own birthdays, you were more concerned with celebrating everyone else."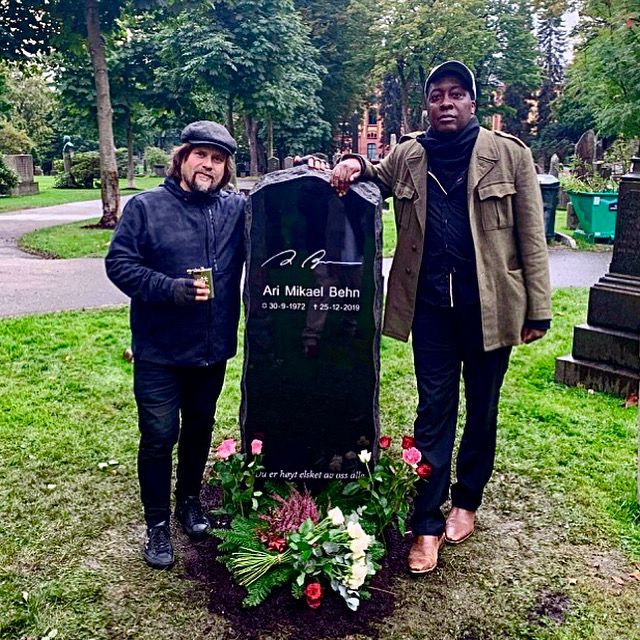 Per Heimly, Bertrand Besigye and Henry David Mendoza took a small glass of wine – since Heimly and Besigye once founded "The New Wine", the artist circle in which Ari Behn was also involved.
Honored with a toast
– We had to take a small toast to honor him – we were after all the new wine, says Per Heimly.
He thinks it's nice to have a grave to go to.
– It is fantastic that he is only fifty meters from Henrik Ibsen. The tombstone with his name feature was very "classy", completely in the spirit of Ari, says Heimly.
In March, Princess Märtha Louise shared her thoughts on the grief following Ari's death:
"We in our little family have been through – and are still going through – a hard time after Ari's death. The hardest we've been through. "
They were married from 2002 to 2017 and have three children together – Maud Angelica (17), Leah Isadora (15) and Emma Tallulah (12).
– Takes time to move on
King Harald has said that it will take time to move on after the death:
– It will take some time. Not a bit either, I think. We have three grandchildren who have lost their father. So it will take time, King Harald said during a state visit to Jordan in March.
Ari's daughter Maud Angelica gave a moving speech during the funeral on January 3.
– It meant so much to me that I could get some value and something nice out of all the awful. And I felt that I could do with that speech – to use my grief to say something to others, Maud Angelica told NTB when the memorial exhibition with her father's art opened in June.
Close to the grove of honor
Behn's last resting place is near the grove of honor, where famous Norwegians such as Henrik Ibsen, Bjørnstjerne Bjørnson, Herman Wildenvey, Olaf Bull and Sigurd Hoel are buried.
Our Savior's burial ground was laid out in 1808 in Gamle Aker north of Hammersborg in central Oslo. Here are 4,500 grave monuments worthy of preservation that will not be removed after the fastening period.
After 1952, no more burial sites have been established, but from 2014 it is again possible to get an urn grave at Our Savior's burial ground.
VG Discount Codes
A commercial collaboration with kickback.no