Host tried to fix a pin machine in his bowling alley when his hand was punctured by a piece of metal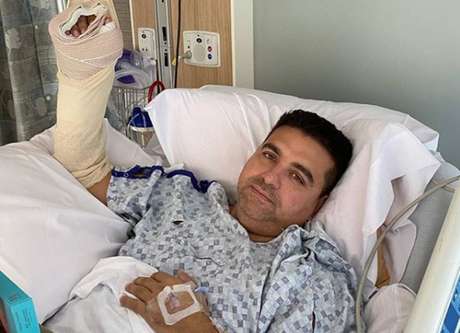 Buddy Valastro gave more details about the accident he suffered recently, which caused him to undergo two surgeries on his right hand. The presenter spoke about the moment in an interview with the program Good Morning America, in the United States, alongside his 13-year-old son Marco.
According to the confectioner, it was another typical Sunday at his home, while he waited to watch a New York Giants football game. He and his family were bowling on the private lane in his house when the machine that replaced the pins got stuck.
"I went there to fix it, something I've done hundreds of times," says Buddy Valastro, who says he turned his head for a moment and, in that distraction, saw the machine pierce his hand between his middle and ring fingers.
The presenter said he was proud of his children, who helped him promptly, and stressed the importance of everyone keeping calm. He was taken to a hospital and later underwent surgery.
This Monday, 28, Buddy Valastro also published a photo next to the family. "Blessed to have my beautiful family by my side and very grateful for all the love and support from my family on social media," he wrote in the caption.