It is burning in Equinor's gas plant on Melkøya outside Hammerfest, only two weeks after a gas leak at the same plant.
Published:,
Pictures from the site on Monday afternoon show thick, black smoke rising from the Equinor plant.
– It is about a fire in a turbine on Melkøya. We have not been notified of any injuries, says communications manager Eskil Eriksen in Equinor to E24.
All emergency services are in place, the police in Finnmark inform.
– A fire with a risk of spreading has been confirmed. All personnel in the area have been evacuated, tweets police right after 4 p.m.
– Very dramatic
Group shop steward Bjørn Asle Teige calls the turbine fire "very dramatic".
– There should not be a spark even on a gas plant, it is life threatening, Teige says to E24 / VG.
– If it escalates, it can go really bad. We can really hope that it does not happen, he adds.
Equinor tells E24 that they have shut down the plant and evacuated all employees who do not assist the emergency services.
– Our emergency personnel are now working with the emergency services, Eriksen says to E24 at 5.15 pm.
Large parts of Hammerfest were darkened on Monday afternoon, and the police closed parts of the airspace around Melkøya.
Two weeks ago gas leak
It is only two weeks since a leak of flammable gas occurred at the same Equinor plant. This led to everyone at the facility being evacuated.
– Do you see these events in context?
– It is too early to speculate now, Eriksen answers in Equinor.
– The most important thing is to work with the emergency services to put out the fire, and then we get back to the circumstances.
In a Facebook message two days ago, Equinor Hammerfest LNG wrote that "the plant is being prepared for start-up after maintenance".
The company warned that this could lead to post-combustion of surplus oil and gas, so-called flaring.

Lost power
In parallel with the emergency services moving out to the fire, a power outage was reported in Hammerfest on Monday afternoon.
At 4.30 pm, the power is back, according to Hammerfest mayor Marianne Sivertsen.
– It was dark for maybe five minutes. We do not know the connection between the power outage and what is happening on Melkøya, she says to E24.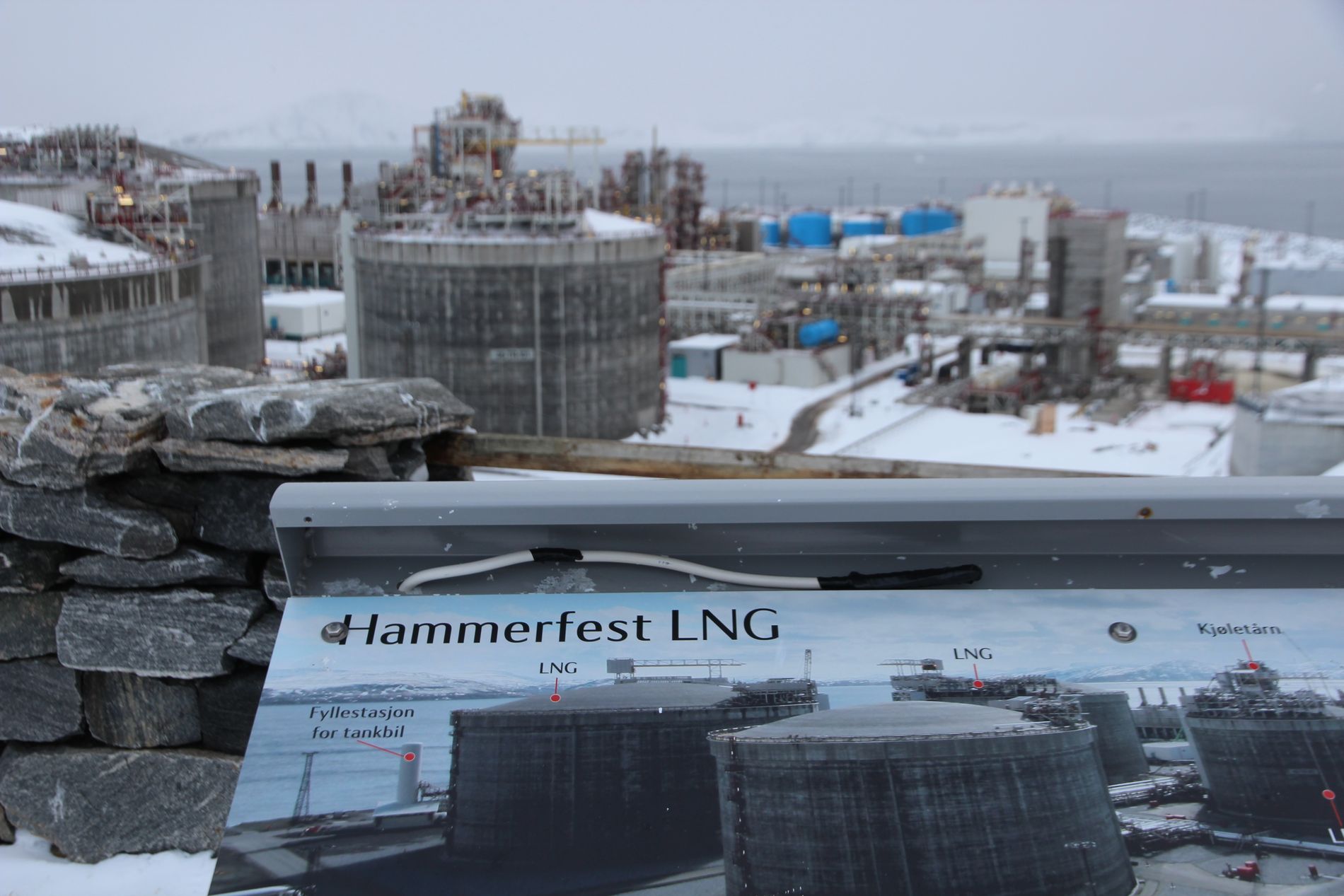 Liquefied natural gas
The oil giant's facility on Melkøya is a receiving terminal for gas from the Snøhvit field, which was started up in 2007.
Here the gas is cooled down to liquefied natural gas (LNG) with a temperature of minus 163 degrees. The LNG is transported by LNG vessels for sale on the world market.
The facility employs around 500 people, with apprentices and subcontractors. Nearly five million tonnes of LNG are produced annually at the plant.
Hammerfest LNG is subject to the major accident regulations, and is thus required to inform the public about special conditions and what measures have been put in place to prevent major accidents.