28-year-old Daniel Stefan Granli's little brother, 18-year-old Christian Olsen Granli, died in a tragic TikTok accident earlier this year. Now he chooses to go out with the story to warn others that it can happen to them too.
– If this can lead to one person being saved, then it is worth it, he says to Dagbladet.
Get in the car
It was Saturday, May 23, that Daniel was called by a friend. He said that there were a number of emergency services outside the shop Tjølling Hestefôr, which the family runs in Tjølling.
Daniel got in the car, and when he arrived after a few minutes, he realized that something had happened to his brother. On the inside, he saw his lifeless body lying on the floor, writes Østlands-Posten, which first mentioned the case.
– Health personnel tried life-saving first aid for an hour, but he was declared dead on the spot, only 18 years old, Stefan Granli says to Dagbladet.
Circumstances at the site could immediately indicate that the 18-year-old had committed suicide.
Death game at 185 km / h – one hand on the steering wheel
Found the cell phone
The rumors began to spread quickly in the town of Tjølling, which is located in Larvik municipality in Vestfold and Telemark. After a short time, the family chose to go out and confirm the death, and what was probably behind it, says Stefan Granli.
But as the days passed and the family had time to think, more and more circumstances surrounding the incident began to creep in.
– Christian was driven to work by his father in the morning, and since he had just turned 18, he had with him a six-pack of beer that he was to drink in the evening. It was not touched when he was found. Inside the office, he had also put on the gas stove and put his things away. It could look like he had covered himself for a full working day, says his brother.
And when the family received feedback that the police had found his mobile phone set up for filming, it became even clearer to them: This must have been an accident.
The police agree with the family's conclusion.
– Our conclusion is in line with the family, this was an accident. Finds at the site, including this film, strengthen the hypothesis that this was not an intentional act, says police superintendent Knut Vidar Vittersø at the investigation department at Larvik police station to Dagbladet.
They have completed the investigation into the case.
Be active on TikTok
Stefan Granli describes his brother as a social person, with several plans and dreams ahead of him. He had attended the mecca at Thor Heyerdahl upper secondary school, and was interested in just this – mecca, facilities and sound.
He was also interested in TikTok, the 28-year-old says.
– In recent months, he posted some videos on TikTok, and several of them got a lot of "likes". This probably led to a rush to always try to surpass oneself, he says.
TikTok is a video sharing platform that very many children and young people use. The application has previously been criticized for a number of trends that have flourished, including one where you pretend to strangle other people, and one where you sabotage bicycles by loosening the front wheels.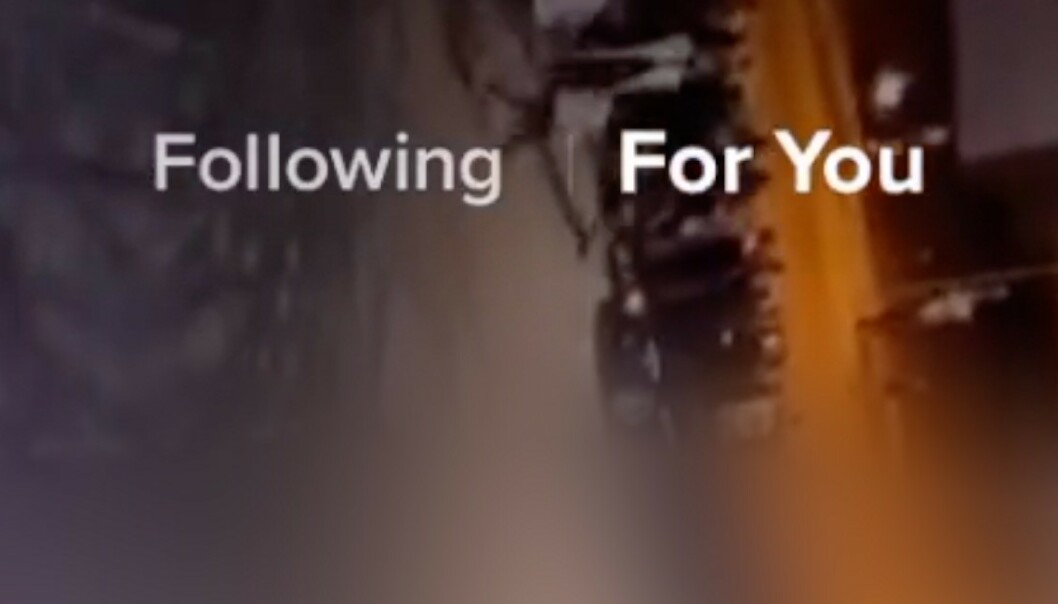 Tiktok star warning: – Do not do this
– Can have enormous consequences
What is important for Stefan Granli now is to warn others in order to perhaps save them from the same fate.
– Social media is different now, than when I was young. You need to talk to children and young people, and give them tips and advice on how they can better handle the focus and what can in part be perceived as pressure. For Christian's part, it went from posting fun videos for "likes", to ending fatally. This is an extreme case, he says.
Østlands-Posten has been in contact with the police superintendent in the South-East police district, Vidar Duvholt. He works a lot with prevention and youth, and shares the same view.
– Young people publish photos and videos every day. Then it is far too fast to publish something that can have enormous consequences, he says to the newspaper and continues:
– They film and share without thinking about it. Then they can put both their lives, and the lives of others, in rubble.
The police chief mentions examples of boys who have hit each other in the head with glass bottles, to film it and post it online. He emphasizes that we can not be so naive and believe that the accident with Christian can not happen to anyone.
Parents can do this
Expert and lecturer on social media, Ingvild Moen, is presented with the story of the 18-year-old. On a general basis, she encourages parents to be more involved in what their children are doing on their mobile phones.
– This case sounds absolutely awful and is going to hurt my stomach. This supports the claim that some young people think they have to do more and more extreme things to get attention on social media, she tells Dagbladet.
Moen draws parallels to some tourists who constantly have to climb higher mountain peaks and farthest out on the airiest parts to get "better" pictures.
– Has TikTok and similar platforms had too great an impact on young people?
– Many are aware of how these platforms work, some in fact more than their parents. But then there are always those who take things inward and use this type of tool in other ways. If people die as a result of a rush for "likes" or a dangerous trend that abounds, then undoubtedly the platform in question has become a problem.
The expert comes with some tips and advice that parents can give their children:
Do not be afraid to be strict. If the children say: "But the others are allowed to do it", you do not have to succumb to the pressure.
Watch the Netflix documentary: "The Social Dilemma", where some of those who have been involved in creating the algorithms for a number of well-known social media, among other things, say that they do not let their own children use them, because they know they are addictive.
Sit down with the kids and give them an introduction to how social media works and how to behave. Reflect together and share experiences. They usually appreciate it.