Ford announced that the Mustang Mach-E GT, the most powerful version of the new electric SUV, will be launched in Europe in late 2021. Equipped with two electric motors that add up to 465 hp and torque of 829 Nm, it should be the fastest model in its category, with acceleration from 0-100 km / h in just 3.7 seconds.
To facilitate recharging, Ford will offer customers five years of free access to the FordPass network, which has more than 155,000 charging stations in Europe, in addition to one year of free access to the Ionity fast charging network, which will have 400 seasons until the end of the year. The goal is that, in addition to high performance, customers have the confidence of being able to recharge the vehicle quickly and easily across the continent.
With four-wheel drive, capacity for five occupants and a maximum speed limited to 200 km / h, the Mustang Mach-E GT combines vigorous performance with the Mustang's sporty charisma in the SUV coupe body. Its special items include MagneRide adaptive suspension, 20 "alloy wheels, red painted brake calipers and exclusive colors like Grabber Blue and Cyber ​​Orange.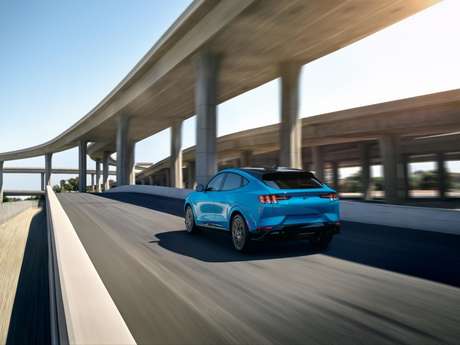 The interior includes a state-of-the-art Sync multimedia system with a 15.5 "screen that learns from the driver's behavior, Ford Performance sports seats and a steering wheel with suede details. The Mustang Mach-E GT is equipped with a standard 88 kWh battery, with a range of 500 km and an intelligent system that more accurately predicts the available mileage from the driver's driving behavior, the weather forecast and the data collected other Mach-E Mustangs.
The standard Mustang Mach-E, equipped with long-range battery and four-wheel drive, accelerates from 0-100 km / h in 5.1 seconds and has an estimated range of 540 km. The rear-wheel drive version has a range of 610 km and can add an average range of 119 km in about 10 minutes, charging in a 150 kW Ionity station.
Ford plans to launch 17 new electric models in Europe by the end of 2021. Its hybrid Puma and Kuga models accounted, respectively, for 75% and 55% of the line's sales until August this year in the region. Ford also exhibits in Europe the Mustang Mach-E 1400 electric, a prototype with seven engines and power of more than 1,400 hp.