(Liverpool – Arsenal 3-1) New signing Diogo Jota did exactly as favorites Mohamed Salah and Sadio Mané did: Scored in his Liverpool debut. And the league champion's incredible Anfield series is only getting better and better.
The Portuguese, who was brought in from Wolves, came in for Sadio Mané ten minutes before full time. At that time, Liverpool led 2-1, and he could hardly have gotten a better start in life as a Liverpool player. After abusing a good opportunity, he took care of the second attempt and swept the ball into goal – to wild cheers.
– It's an incredible feeling. I just wish it happened with full stands. But the most important thing was of course to win, says Jota in an interview shown on TV 2 after the match.
VG Live: We watched the big game here!
Jota became the 13th Liverpool player to score in his Premier League debut for the club, and followed in the footsteps of Sadio Mané, who also made his Liverpool debut – scoring – against Arsenal.
also read
Mourinho with Solskjær stick after joking comment
His 3-1 scoring ensured that Liverpool could relax more in the last minutes – and extend their incredible Anfield series: The reigning league champions have not lost a league game at home since May 2017. They have played 61 home games in the league without a loss. . The previous loss came against Crystal Palace, in a match that ended 1-2.
Only Georginio Wijnaldum and Roberto Firmino from today's Liverpool edition were involved. (Trent Alexander-Arnold started that match on the bench, but was substituted in the second half).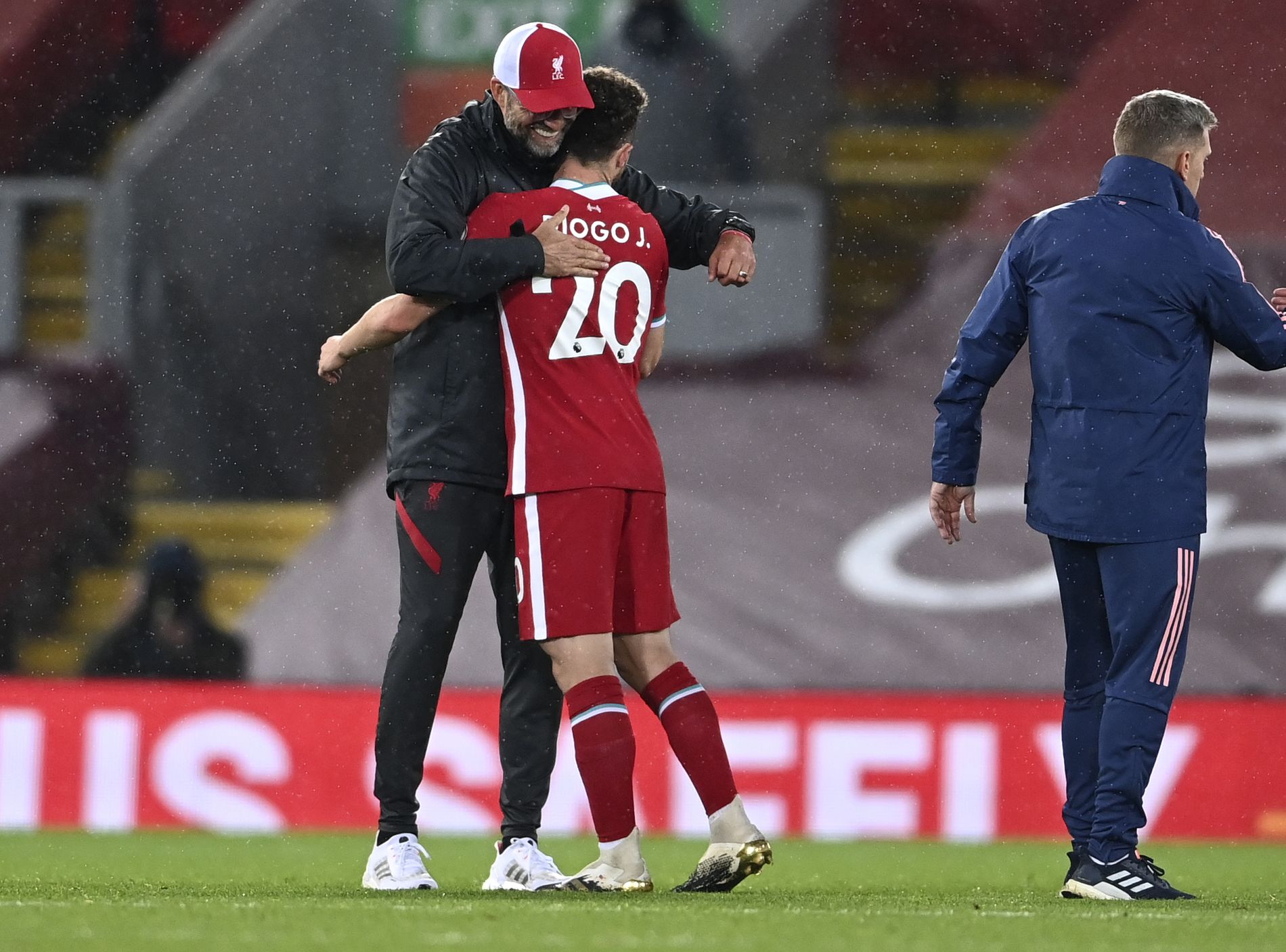 Messy start
Jürgen Klopp's men went on the offensive in the usual way, but after a couple of great opportunities, including a shot in the crossbar from the always offensive Trent Alexander-Arnold, Liverpool got one in the woodwork.
Alexander-Arnold's back colleague, Andy Robertson, had to clear the ball completely unpressurized. Instead, he ladleed the ball straight to Alexandre Lacazette who was thus all alone with stopper Alisson. Lacazette did not get a clean shot on the ball – but Alisson failed to shuffle his legs and the ball bounced in an arc over him and into goal.
also read
The Leeds upturn continues after a new Bamford goal
But it did not take Liverpool more than 147 seconds to respond. Mohamed Salah fought in front of Kieran Tierney on the right, cut inwards and finished with his poisonous left leg. The shot was stopped by Bernd Leno, but the return ended up in the legs of Sadio Mané, who got an easy job of putting in the equalizer.
Mané has become a nightmare to face for The Gunners – at least at Anfield. He has scored in four of the last five home games against Arsenal.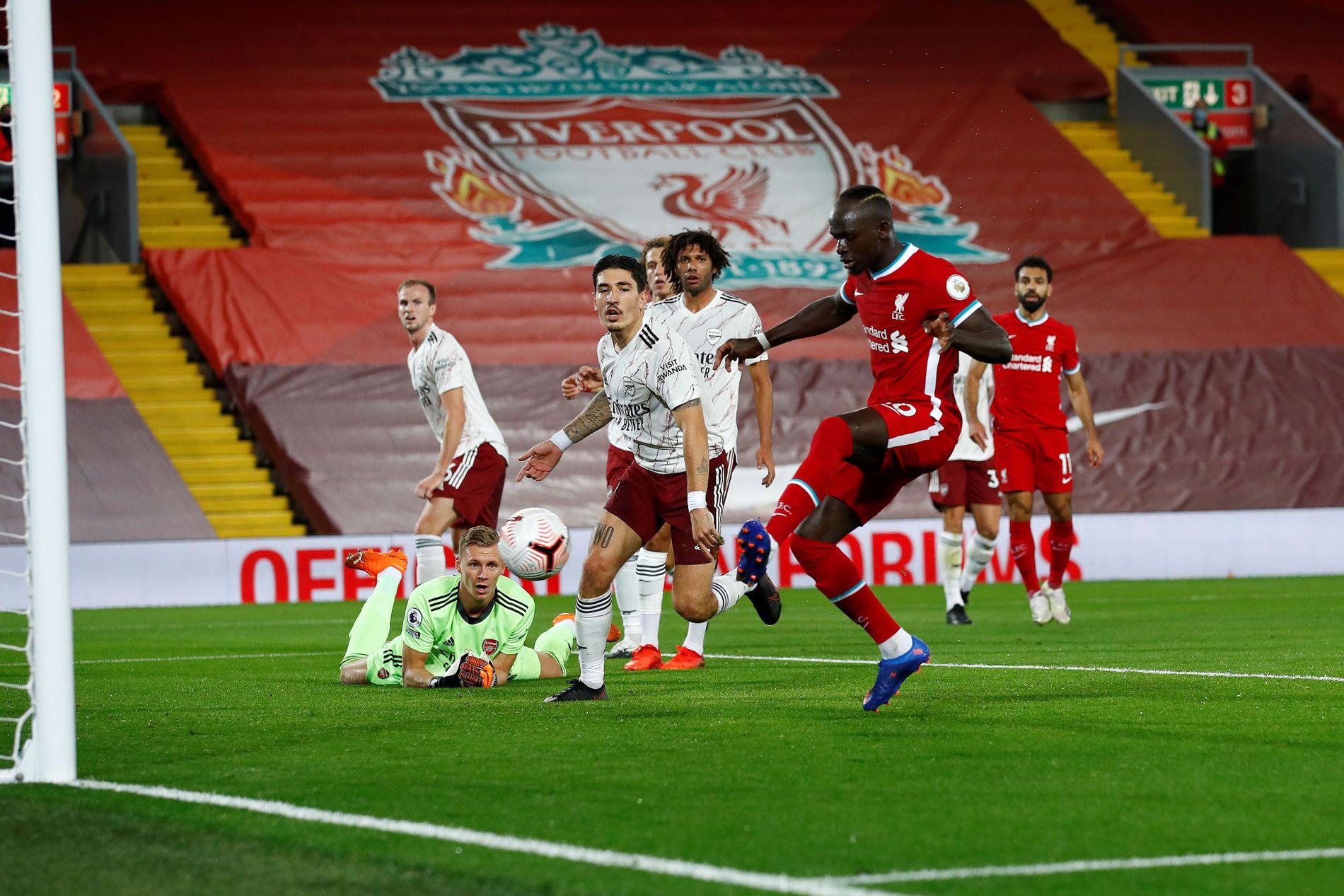 Could have received marching orders
However, the Senegalese was perhaps a little lucky who at all got the opportunity to put the ball in goal: In the beginning of the settlement he could have been sent off. After just a few seconds of play, he avoided Hector Bellerin from behind, but escaped short. A few moments later, he was up with the elbow in Kieran Tierney's face.
Mané could easily have been shown the red card, but only got the yellow card.
– It's such a close red card, that. He does it on purpose, was the verdict from TV 2 expert and former Premier League professional Brede Hangeland.
also read
Ancelotti has been given a turn at Everton – best league opener in 27 years
But Mané got to play on, and became an important contributor to Liverpool's turnaround operation. The same was the man who messed it up on the 0-1 goal.
Robertson made up for it when he scored Liverpool's 2-1 goal. Post-king Alexander-Arnold found Robertson on the back post, and the shot put the ball elegantly before tipping it over Leno.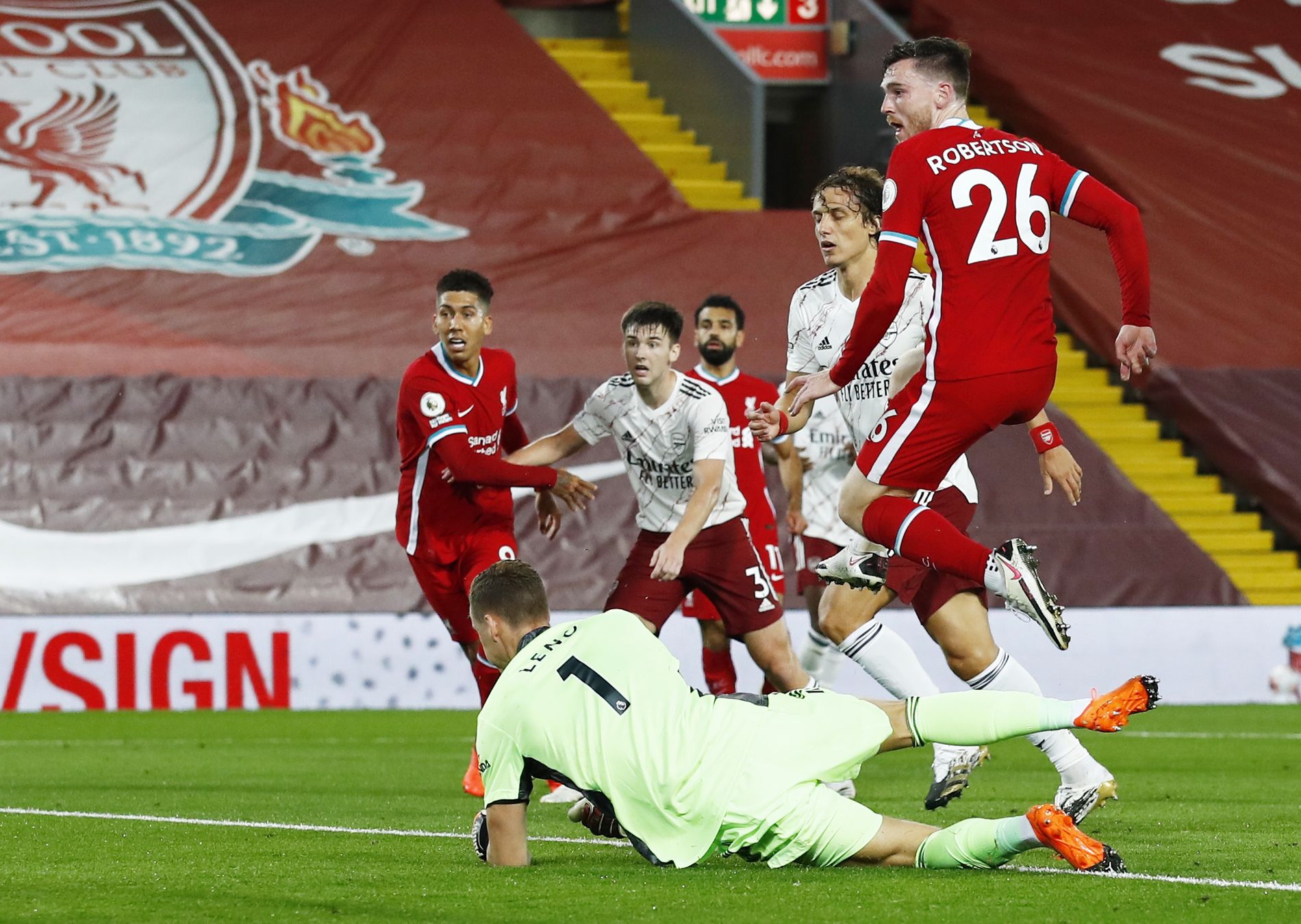 Below the cut
The settlements between Liverpool and Arsenal have been in the habit of being of the goal-scoring kind. An average of 4.8 goals have been scored in the ten previous meetings between the teams, and when we were served three goals in ten minutes in the first half, it was long overdue to be another goal-rich affair. It could have been fast too.
Both Lacazette and Mané had several opportunities to put more. Weak finishes and good goalkeeping from both Alisson and Leno, however, ensured that bare were four goals this time.
Liverpool are now one of three Premier League teams with a full pot after the season's first three games. The other two are Leicester, who humiliated Manchester City on Sunday, and Merseyside rival Everton.
Arsenal, for their part, suffered their first loss of the season, and the fear of the "top six" clubs continues: Arsenal have played 28 away games against the other top teams without winning. It's 2080 days (!) Since last time.
The case is being updated.
Premier League
Champions League
European League
Relegation
VG Discount Codes
A commercial collaboration with kickback.no