Mom Lele Ruud knows people are talking about her son Casper (21) and the quarterfinals on the gravel in the French Open. She does not want to be part of that conversation.
Mother Lele Ruud sat at home on Snarøya and watched her son challenge world number one Novak Djokovic on the gravel in the semifinals in Rome on Sunday. It was some intense hours.
– I really want him to make it happen, that he should show what he is good at. We just have to enjoy when he reaches the goal of meeting one of the big three. Then you are nervous, at the same time it is a joy, says Lele Ruud and adds:
– And I do not think he can not win. I think it will be tough, but the opportunity is there.
And the 21-year-old played so well that Djokovic gave a thumbs up along the way:
The reward for good performances and semi-finals in the Roma Masters came quickly, on Tuesday morning it was clear that he is ranked number 30 in the world. There are four places up, career best and nine places higher than dad and coach Christian Ruud ever was.
– It is fantastic. I am very impressed, says mum Lele.
She thinks her son is even better than "what was the plan".
– We had put in a little more time before Casper was there. Now Christian has to put up with Casper breaking his records, and of course he does. That's what we all cheer for, says mum Lele and laughs.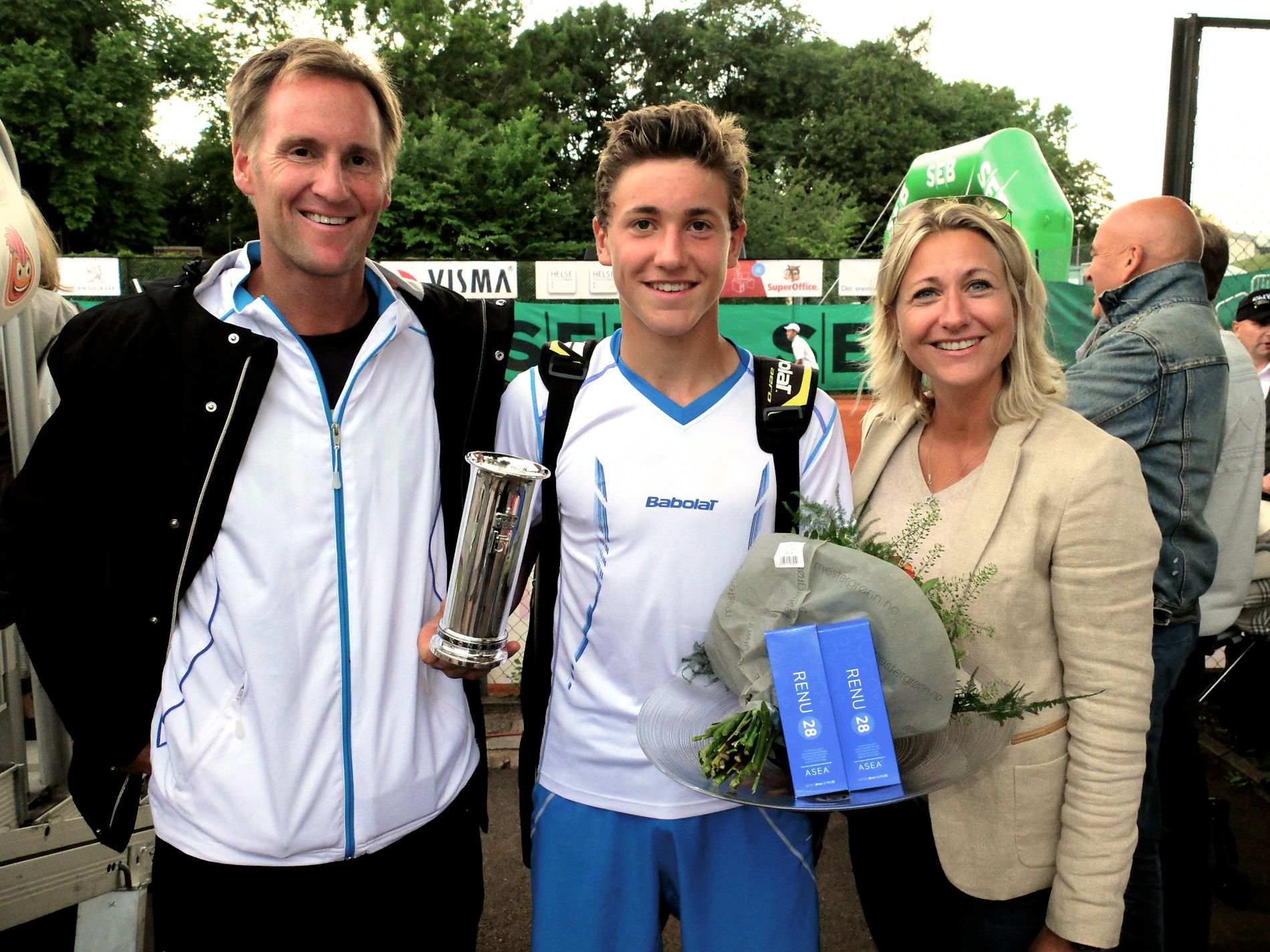 Last year, the whole family was in Paris when Ruud beat Matteo Berretini and met Roger Federer in the third round. This year, the 21-year-old will only be allowed to bring two people to the French Open due to the corona pandemic. Dad Christian and physical trainer Marcel da Cruz join.
also read
Roger Federer on Casper Ruud: – Will be good
– It's something else to sit there and watch it live. It's hard not to be present. I would like to give him a hug. But we understand the situation, so I get to see it on TV, says Lele Ruud and adds:
– He calls. We talk on FaceTime. Then I see the joy and get my face into the living room.
And now expectations and pressure are coming fast.
– I know people talk about the quarterfinals. I never say anything like that. The level is so high. We will take one match at a time, says Lele Ruud.
The nine highest ranked players in the French Open are from nine different nations. The 20 highest ranked come from 14 different nations.
also read
Casper Ruud about the opponent who clicked: – I think he is an asshole
The Grand Slam tournament in Paris was postponed from May to September due to corona. But now the qualification is underway. Ruud plays the first round once between Sunday and Tuesday. Round 3 starts on Friday 2 October. The final will be played on Sunday 11 October.
Ruud coaches at the Nadal Academy in Mallorca. The 21-year-old from Snarøya has charged up for the gravel tournaments with Rafael Nadal.
Ruud himself has put the list high ahead of the French Open.
– Of course you always want to try and improve, so I must say that a possible 4th round is high on the list, Ruud told VG before the tournament in Rome.
also read
Ruud won the Argentina Open – and a million kroner
Roger Federer will not participate in the French Open this year. Djokovic is seeded as number one, Nadal number two, and recent winner of the US Open, Dominic Thiem, is ranked number three.
– It was a lot of fun in Paris last year, and I look forward to coming back this year. But it is a slightly different time than what you are used to, and that the tournament is played in September and October is different as well. It will be a bit challenging I think, but it is the same for everyone. And something new for everyone to work on, Ruud told VG.
VG Discount Codes
A commercial collaboration with kickback.no