On September 9, Hugh Grant turned 60 years old. Over the years, the British actor has managed to become one of the world's most popular stars, and with roles in films such as "Notting Hill" and "Love Actually" has almost become the symbol of a British gentleman.
However, a 60-year-long life has offered a lot of strange things, and he is not completely without his scandals. Earlier this year, the star told Dagbladet that he "drinks too much", and that he is actually too old to live the lifestyle he does. The actor is married to Swedish Anna Eberstein, has five children, but has thus had a tendency to live as he did in his 20s.
In a new interview with the Daily Mail, however, he can tell that he has changed his lifestyle. He gives that honor to his five children, which he has received over a period of nine years.
– Glad
He tells the newspaper that being a father saved him from becoming "a scary and old golf-addicted bachelor". He thinks that people have the impression that he has always been "Mr Nice Guy", but he denies that in the interview.
– I was about to become that bachelor, and to be completely honest, I'm glad I did not become one, he says in the interview.
Hugh Grant has three children with his current wife, and two with his former partner Tinglan Hong. He has lived a life where partying and work have been in focus, but this changed when the children were born.
– It is completely strange to try to be a young father in an old man's body. I have found out that as a 60-year-old with five small children in the house he should not be drunk, he laughs in the interview, and continues:
– But it is definitely worth it. People tell me I've become a better actor over the last ten years, and they're wondering why. Sometimes I think it's because of my children, he explains.
Although many have thought Grant has been a "Nice Guy", it is not surprising that he has been involved in several scandals.
– I cried for three weeks straight
Arrested
The year after the success of "Four Weddings and a Funeral," in 1995, Grant was arrested along with a female prostitute by the Los Angeles police. The case received enormous media attention, especially since the actress at the time was in love with model Elizabeth Hurley.
Advertiser Content
In this way, Norwegians can save NOK 4.25 billion in interest costs
The much talked about sex purchase ended up costing Grant the credit, 6600 kroner in fines – as well as the relationship with Hurley.
He has rarely wanted to comment on the episode, but when he visited the breakfast program "CBS News Sunday Morning" in 2016, he opened up about the much talked about sex purchase.
– I was very naughty. And very full. And, yes, I was a repentant sinner, the actor said.
He also felt that the behavior was perceived as even worse as a result of the stark contrast to his character in "Four Weddings and a Funeral", Charles, with whom most people associated him at the time.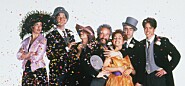 This is how it went with the gang from "Four weddings and a funeral"
– The character I played was so good and kind, and people probably thought I was like that in real life as well. The contrast to how I actually behaved was probably therefore great, Grant said, adding that he understood the commotion in the press.
Children of the same age with two women
In 2011, Grant again made headlines as a result of a volatile affair. This time, however, the affair led to the daughter Tiabitha, which made Grant a father for the first time at the age of 51.
At the time, the mother's identity was not known, but it became later, when Grant in 2013 was expecting another child with the same woman, Chinese Tinglan Hong.
The son Felix Chang Hong Grant was born in 2013, but the following year the media was able to reveal that Grant had had another child in the meantime.
In 2012, the Swedish TV producer Anna Elisabeth Eberstein, who is today Grant's wife, had her son John. The British newspaper Daily Mail had been given access to what they thought was the child's birth certificate. While the father's field had long been empty, the newspaper in 2014 had noticed that the field suddenly now bore Grant's name.
The dates of birth of the children indicated that the two women had been pregnant at the same time for a full six months.
As in "Four Weddings and a Funeral," Grant's chaotic love life has nevertheless ended happily. Today, he lives a far calmer family life with Eberstein, who became his wife after the couple gave each other their "yes" at London City Hall in May 2018.
ALSO READ: You never saw this