The United States has officially registered 277,285 cases of coronavirus in children aged 5 to 17 years and 51 deaths since March, according to a more complete study by US health officials, at a time when schools are considering reopening their doors.
Between March 1 and September 19, the lethality rate (proportion of confirmed cases that resulted in deaths) calculated for school-age children in the United States is 0.018%, according to this study by the Centers for Disease Prevention and Control (CDC).
The new data confirm that the real lethality of covid-19 is extremely low in this age group, compared to adults and especially the elderly.
In another analysis published on the website on September 10, the CDC estimated that, in the most likely scenario, lethality rates by age group were 0.003% (0-19 years), 0.02% (20-49 years), 0.5% (50-69 years) and 5.4% (70 years and over).
Among children, there is a notable difference between those older and younger than 11 years old, according to the CDC study: the incidence was double between 12 and 17 years old, compared to children aged 5 to 11 years old. And the study confirms that minorities are the hardest hit in the United States: 42% of infected children were of Latin origin, 32% white and 17% black.
Out of 277,000 cases, 3,249 were hospitalized, 404 needed intensive care and 51 died. Overall, several studies in the United States and elsewhere have proven that children are less vulnerable to the virus than adults, although they are not immune.
In last week's issue of the journal Science, two UK researchers said that hospitalizations of infected children were rare and that only 1% of children who were hospitalized died, compared with 27% of the rest of the population in all age groups.
The scientific debate continues to understand whether young people are contaminated less or as much as adults.
Last week, an analysis compiling 32 studies on the topic and published in the journal Jama Pediatrics concluded that children and adolescents under 20 years of age were in fact 44% less likely to contract covid-19. The same analysis, however, was unable to conclude whether children were larger or smaller vectors than adults.
See too
Restoration
Brennand: Monument to the Heroes of the Battle of Guararapes will be restored and transferred to Pina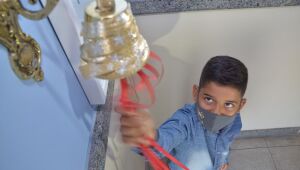 Hope
After winning rare cancer, ten-year-old boy rings bell in Recife