– If we are to succeed in making Oslo the world's first emission – free city, we need more and more powerful instruments. Too many fossil cars are still sold. A ban on such cars in parts of Oslo will make it even more attractive to choose an electric car or other more environmentally friendly means of transport. It will also make less noise, and facilitate more city life.
This is what Lan Marie Berg from the Green Party (MDG), City Councilor for Environment and Transport in Oslo, says.
The city council she is part of aims for the emissions in Oslo to be cut by 95 percent by 2030.
In the budget for 2021, the Urban Environment Agency will receive NOK 4 million to make a proposal for zones in the city where only electric cars, hydrogen cars or vehicles with other emission-free technology may drive. In other words, it is forbidden to drive a fossil car in these areas.
The city center, Tøyen and Greenland
Which areas fossil cars will be banned, and how large areas are in question, has not yet been decided.
– That is exactly what we are going to find out now. We want this to be done together with business, groups with disabilities or others. But it will be natural to look at the areas that are currently covered by Car-free city life, says Berg.
Car-free city life has been Oslo's investment in less car traffic, but more activity in central Oslo, on Tøyen and Greenland.
Ask Frp to keep his fingers off the dish
– The goal is to get this in place by the end of 2023 at the latest. If we succeed, Oslo will probably be the first capital in the world to have zero emission zones, says Berg.
– Goes further
– You have talked about car-free city life for a long time. What's new now?
– Now the city council will make it forbidden to drive a fossil car in parts of Oslo. Several cities in Europe, such as Amsterdam, London and Madrid, have also demanded high taxes for fossil cars in the city center, so-called low-emission zones. But now Oslo goes even further. This means that in a few years, people who want to drive a fossil car will have to replace it with an electric car or other even greener ways of traveling, says Berg.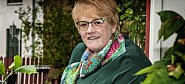 – Emergency vehicles and other special vehicles will of course still arrive, she emphasizes.
Lan Marie Berg says they would have liked to have implemented the measure before.
– It has long been unclear whether Oslo and other cities in Norway have actually had the opportunity to introduce this, says Berg.
According to the city council, this changed when the government this spring presented the comprehensive report on what measures and instruments can take Norway down to at least a 50 percent reduction in its greenhouse gas emissions by 2030, called Klimakur.
– But with the clarifications that came in Klimakur this March, this can now finally be introduced, she says.