Shirt 10 of São Paulo injured his right forearm on August 27, underwent surgery and has been recovering
Recovering from surgery on his right forearm, Daniel Alves posted a series of videos on his social networks last Sunday in which he appears playing the tambourine and other musical instruments. The São Paulo player was widely criticized by several fans, who accused him of not protecting himself to return to playing with the club's shirt.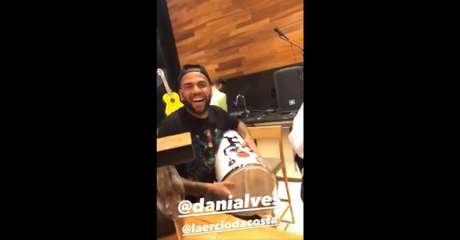 Shirt 10 suffered a fracture in his right arm on August 27, in the victory over Athletico-PR by 1 to 0. After that, he underwent surgery in the region and the player was not given a return time to return to the pitch. . In the last week, he had been appearing on the field training separately with Joao Rojas, who is also recovering from injury.
Daniel Alves has not played since then and lost a few games, like last Thursday, in the 2-2 draw against River Plate, in Morumbi, for the Copa Libertadores. He also did not travel to Ecuador, where the team will face LDU, from Quito, on Tuesday, for the competition.
As a result, the repercussion was quite negative among the fans, who strongly criticized shirt 10, since he is recovering and played instruments precisely with his injured arm.
São Paulo will face LDU this Tuesday, at 9:30 pm, in Quito, Ecuador, for the fourth round of the Libertadores group stage. The team led by Fernando Diniz is third in his group, outside the classification zone.