Sunday morning, 18, was marked by the 1st Pedal Outubro Rosa in Caçador. The event brought together about 50 cyclists who traveled a 40 km route.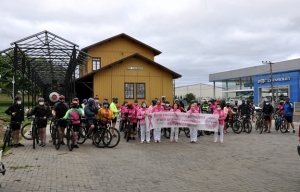 The departure was at Parque Central. Before, the official photo was attended by members of the Women's Network to Fight Cancer. The initiative drew attention to the prevention of breast cancer.
According to the organizers, the pedal exceeded expectations. Some participants bought the shirts helping the Women's Network to Fight Hunter Cancer.