Equinor, the Bjørseth family and Folketrygdfondet earn NOK 2.5 billion on an increase in shares in Scatec Solar, which will buy SN Power. Simultaneously with the acquisition, Scatec announces that in a while they will go out to raise more capital.
Published:,
Scatec Solar is raising $ 10.9 billion to buy SN Power from Norfund, thus expanding its business from solar power to also include hydropower.
This helped to send the share up, at most up to NOK 277, from NOK 216.80 when closing on Thursday. This corresponds to an increase of over 25 percent.
– This is quite in line with the figures I calculated on before the stock exchange opened, says analyst Andreas Bertheussen in Kepler Chevreux to E24.
– This acquisition makes a lot of sense for Scatec, which uses both its own pricing on the stock exchange and a desire to diversify further, he says.
Bertheussen says that a lot has happened in the company since his previous analysis from this summer, where he gave a neutral recommendation and set a price target of 167 kroner.
– I will probably have to sit down with the calculator, he says.
The share increase sends Scatec Solar up to 14th place on the list of the largest companies on the Oslo Stock Exchange, with a market value of more than NOK 36 billion.
Read on E24 +
There are views on Scatec's plans, but the acquisition must be paid for
Billion profit on paper
The largest owners in the company can enjoy a solid rise in stock market values ​​- even if these will not be realized until they eventually get rid of the shares.
Store owner Equinor has a shareholding of 15 percent, which at most had risen by more than one billion kroner on paper after the rise on Friday.
The Bjørseth family's shareholding through the company Scatec AS has increased by more than 900 million, while Folketrygdfondet has a paper gain of around 600 million.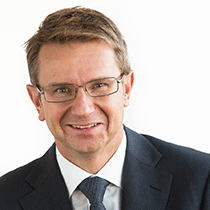 – It is important to emphasize that it is on paper, says CEO John Andersen of Scatec AS to E24.
– We have been in this stock for many years and still believe that it has significant value-adding potential, he adds.
Scatec AS was established in the 80s by Alf Bjørseth, the man behind Rec and Scatec Solar. Now the daughter Tone Bjørseth-Andersen is the main owner.
– We are very enthusiastic about this acquisition, says John Andersen.
Read on E24 +
The green dreams of the oil leaders can send the Scatec share to heaven
He points out that the transition to renewable energy is accelerating, and says that it has a special value for Scatec Solar to be able to master several technologies. In many markets, it will be natural to combine solar, wind and hydropower with batteries.
– Fundamentally, it is to broaden our strategy to be able to take an active role in the fastest growing markets, says Andersen.
– It is nice to register that the market receives this in a positive way, he says.
Probably need to raise money
In the presentation material that the company presented on Friday, Scatec Solar writes that the purchase of a total of 1.17 billion dollars is financed as follows:
$ 116 million of own cash

$ 200 million in seller credit from Norfund

$ 150 million in a four-year term loan from Nordea, DNB and Swedbank

$ 700 million in short-term "acquisition loans" from Nordea, DNB, BNP Paribas and Swedbank
However, Scatec Solar needs to raise more money to repay some of the billions it borrows to finance the acquisition. It must happen within a year after the agreement is implemented, which will probably happen in the first half of 2021.
The "acquisition loan" that Scatec has received of USD 700 million (NOK 6.55 billion) has a term of 12 months after the transaction is completed. Then it must be repaid. Scatec writes that the "acquisition loan" "is expected to be refinanced through debt and equity".
Scatec thus announces that the company wants to borrow more and raise fresh money in a share issue.
Scatec's largest owner, Equinor, is currently tight-lipped about whether they are willing to participate with more capital for the company:
– We have a long-term approach to our investments in Scatec Solar, and we think it is an exciting company. As a shareholder in the company, it is not natural that we comment on individual transactions, and we will refer to Scatec for information about their activity, says Eskil Eriksen, spokesman for new energy solutions in Equinor to E24.
Such an issue could dilute the ownership interests of existing shareholders, depending on how the issue is set up.
Scatec Solar CEO Raymond Carlsen will not say anything about how much he may have to raise money in the market, and when that will happen.
– I can not answer anything concrete to that. We have a favorable acquisition financing interest rate of 250 basis points above the underlying interest rate. These loans are very favorable, he says.
– Do you think you can get away without having to make an issue?
– I do not want to say it. We have to consider it, says Carlsen.
also read
Assessed players in Asia and Europe: – Scatec came up with the best offer
– A growth company
However, the prospect of more shares being printed does not frighten store owner Scatec AS.
– It is important to remember that Scatec Solar is a growth company. We basically think that as long as we manage to present good projects and create value, we are not against going to the market and raising capital when necessary, says Andersen.
– But that presupposes that the projects are good. The fact that we go to the capital market and raise money does not mean anything other than that we grow faster than what we have organic earnings to be able to handle, he says.
Bertheussen in Kepler Chevreux emphasizes that Scatec Solar communicates that they will both print more shares and borrow money to repay the money.
– The company writes this explicitly, so it is quite clear that it is the basic case in the company. But size timing and needs are hard to say now, he says.
Scatec Solar will end up with debt of NOK 6.8 billion after the acquisition. Prior to the acquisition, the company had outstanding NOK 1.2 billion in receivables.
also read
Scatec Solar changes name after billion purchases
– More attractive for Equinor
Equinor has had a very good value development in its ownership in Scatec over the past year. In December, the oil company further acquired Scatec. Then the price was 116 kroner a share, against 264 kroner in the middle of the day on Friday.
Bertheussen says he has been unsure of what Equinor wants with its ownership in Scatec Solar, but that there is hardly any disadvantage that the company will now be even broader.
– I think this transaction makes it more attractive for Equinor to be the owner. They increase the size and portfolio and diversify the company, says Bertheussen.
Have enough money
Scatec Solar has a free cash balance of NOK 1.89 billion, and will issue NOK 1.07 billion in the purchase. Carlsen still believes that he has enough left for the operation of the company.
– Yes, we have it. We are also establishing a $ 180 million credit facility. This money will not go out tomorrow either, so we have enough money, says Carlsen.
– You have water and solar power, but what plans do you have for wind power and batteries?
– We work with several opportunities, and when we feel the time is right, we share it with the market. We work with wind projects in South Africa and Vietnam, among other places. SN Power has a 30 MW wind project in Vietnam that is in production, and is working on a 40 MW battery project in the Philippines, says Carlsen.
He believes a larger Scatec Solar will be even more attractive to work with.
– We notice it already. Before, we had to look for projects. Now people know that we are a big player, and the developers and development banks come to us with projects. The new Scatec will have a solid balance sheet and cash flow, and this will strengthen our growth going forward, says Carlsen.
Read on E24 +
This is how you can get the upper hand in Aksje-NM