OSLO BØRS (VG) Magnus Carlsen (29) invested NOK 120,000 in a company called Play Magnus. When they go public seven years later, it means that the value is approximately 1.1 billion kroner.
We owe it to ourselves to add that the 120,000 kroner gave Carlsen a 60 per cent ownership share in the company, which thus had a total share capital of 200,000 kroner at the time.
After the listing, the world champion is left with 10 percent of the shares – and the value of them is around NOK 110 million. This again means that the chess profile is probably good for around 200 million now, among other things through real estate, previous share sales and shares.
– I help when I can and when I am needed, but it is not me who will tell where this company will be in ten years, Carlsen says modestly when we meet him with the other two founders, his ex-manager Espen Agdestein and the man who had the idea, Anders Brandt, in the Oslo Stock Exchange's venerable premises.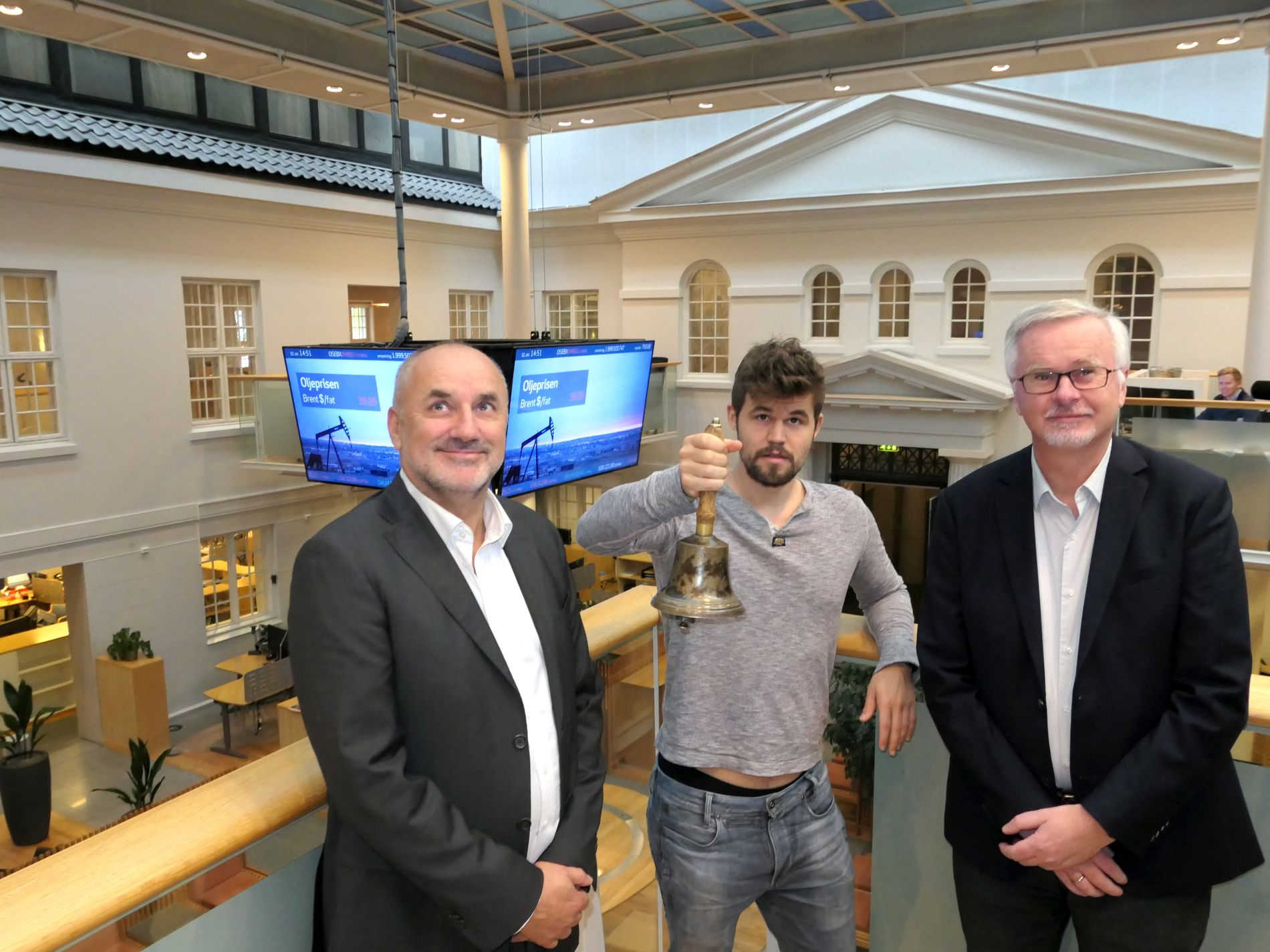 For the listing, they have raised NOK 300 million for the company (plus NOK 150 million because previous owners have sold down). Magnus Carlsen himself has sold shares for 25 million – but still has shares for 110 million.
– How does it feel to have a listed company with your own name on it?
– I have not thought much about it, but it is definitely a milestone in the company's history, the chess's big star answers.
– It is massive to raise 300 million. Chess has admittedly always been big, but now the development is going digital – and with the corona infection even faster. We are now well positioned there. Never before have such large investments been made in chess as we do now, says Espen Agdestein, in place by Carlsen's side.
Always realistic and very honest Magnus Carlsen believes that not has been impossible to predict success.
– But it has been that there has been a strong growth especially in recent years.
also read
The world stars must be quarantined in Stavanger: – Clear advantage for Magnus
Play Magnus Group has more than 3 million registered users across platforms and approximately 35,000 monthly paying customers worldwide. Agdestein says that the annual turnover is now around seven million dollars (76 million kroner), and that the growth is great.
– Of course, this would not have been possible without Magnus – and his exploits at the chessboard, says Anders Brandt.
– He has been a door opener and a good ambassador for the company.
During the corona period, they have had a series of tournaments with Carlsen's name, and now they are launching a new series of tournaments – which will run over the next year.
– We will play fast chess, says Carlsen, who admits that he has an important finger in the game when it comes to finding the right tournament concepts.
also read
This is how Magnus Carlsen can become this year's Fantasy King: – Very impressive
– We have come to the conclusion that fast chess is better online than long chess. Long chess on the board is fun and of course will be best – but it's fun to see that the quality of the online game gets higher and higher. It should be possible to play as well digitally as across the board.
– The audience loves that they get so close to the players digitally, says Agdestein.
– Does it feel uncomfortable, we ask Carlsen?
– No, absolutely not. When you sit there, you do not think about what people get.
– How are you going to invest the 25 million you have now freed up by selling yourself in Play Magnus?
– Then I just have to refer to the general manager, Henrik Carlsen, smiles the world champion – and states that it is the father who manages the accounts in Magnus Chess, where he has gathered his business. The chess star owns 85 percent of the shares in this company, the father 15 percent. Privately, Magnus Carlsen has invested in a house in Holmenkollen for around 20 million and an apartment on Tjuvholmen for about the same price.
With property for 40 million, a shareholding in Play Magnus for 110 million, recent sale of shares in Play Magnus for 25 million, and the values ​​in Magnus Chess, this means that Carlsen is now probably good for 200 million kroner.
And Play Magnus definitely has no plans for the stock price to go down over the years. The plans are big. CEO Andreas Thome says to VG:
– We could have made money already now, but we choose to grow. The goal is a turnover of 60 million dollars by 2025, says Thome. This corresponds to well over half a billion kroner.
– We believe we have unique products to offer. Chess is perfect for the web. Now we will strengthen the marketing, we may have to make a few more acquisitions, and we intend to come up with more languages, says Andreas Thome.
Until now, the United States and Europe have been the major markets. But the interest in chess is enormous in Russia and India, and well on its way to China as well.
– We already have broadcasts from tournaments in many languages ​​on chess24.com, but we also intend to offer chess lessons in several languages, says the manager of Play Magnus.
also read
Carlsen was in big trouble – so the chess star showed class
Some wonder if Magnus Carlsen in this way gets too much power in chess in the world. Chairman of the Board Anders Brandt answers:
– Magnus has always been concerned with fair play, so I do not think there is any danger. Magnus has revolutionized the sport of chess, and I know that the other players also think it's great.
– Chess has previously had trouble attracting a large audience. Under Magnus, and with Norwegian media such as VG, NRK and TV 2, this has changed. We at Play Magnus want to develop the sport even more, and it will also lead to more people in the world being able to make a living from being chess players, says Andreas Thome.
The new tournament series that will now be launched is also based on what in chess is called "match", ie that the players during the day play several games and where the one who has won the most games is the winner.
also read
Carlsen does not believe in a World Cup match this year
– It gives many ups and downs every day and takes more for us players. But both we and the audience notice that there will be much more element of sport in it, says Magnus Carlsen.
At least investors have faith. The American hedge fund Luxor is among those who are now investing in Play Magnus, which without any problems raised 450 million (300 new million plus a sale of 150 million).
– It is a Norwegian company, listed on the Oslo Stock Exchange, that is changing the world of chess. We are quite proud of that, Espen Agdestein smiles.
VG Discount Codes
A commercial collaboration with kickback.no