A baud rate for the new coronavrus in Belo Horizonte it returned to the green level this Thursday (15th). The information was released in an epidemiological bulletin by the city of the capital of Minas Gerais (PBH). The Rt, the average number of transmissions per infected person (which measures how many people each infected person has the disease) reached 0.98 on Wednesday. That means every 100 infected transmit to 98 people.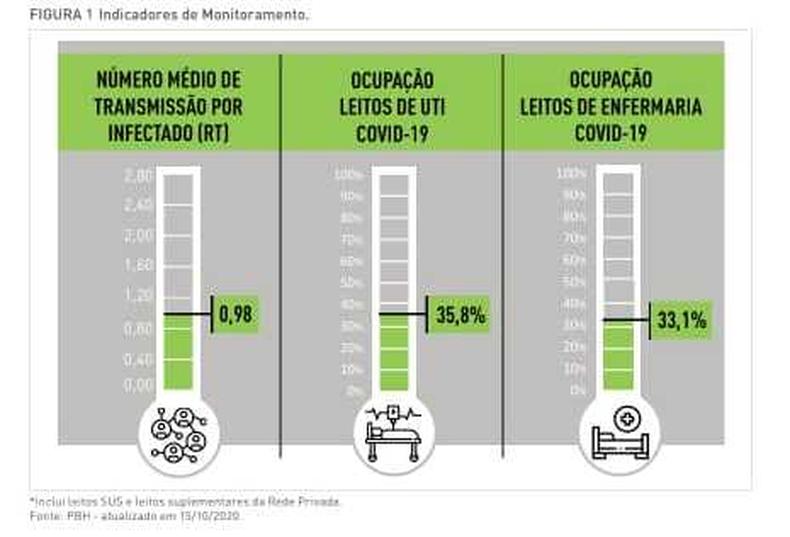 However, Belo Horizonte jumped from 45,120 thousand to 45,437 thousand confirmed cases of COVID-19 in 24 hours. According to the epidemiological bulletin published by the city, the capital Minas Gerais has 1,392 deaths due to the disease, 20 more than in the previous survey. In addition, Municipal Health investigates 92 deaths from the new coronavirus.
Of the 1,392 deaths in the city, 781 are men and 611 women.
With the presence of at least one risk factor and / or comorbidity, 97.6% of deaths occurred. Among them are 1,151 elderly (over 60 years old), 715 cardiac patients, 512 diabetics, 275 pneumatics and 232 with obesity.
Also according to the PBH, 42,034 people recovered from the disease.
Beds
Also according to the bulletin, 35.8% of the ICU beds are occupied. 33.1% of infirmary still serve patients from the new coronavrus.