SKIEN / OSLO (VG) Filip Mangen Ingebrigtsen (27) was superb in NM cross-country running. Dad and coach Gjert (54) was overjoyed: – It was a world-class race, he says.
– Filip runs 10 kilometers in the terrain here in 29 minutes (29.23). All alone. It's bullshit, says Gjert Ingebrigtsen.
Filip Mangen Ingebrigtsen became European champion in cross-country running in 2018 in Tilburg, the Netherlands, but this was his first NM gold in the exercise (10 km). He ran 3,30.35 in the 1500 meters in Monaco this summer. Since then, it has been quiet from him.
Filip explains it with a leg injury. But Gjert emphasizes that allergies are the main problem. Now he has hopefully received the medical help that will spare him several interruptions.
– Filip is multi-allergic. He has serious problems getting enough air. When he gets a reaction, he is put out for six to eight weeks. Had it been the Olympics this year, he would not have competed. And that's not how we can have it, says Gjert Ingebrigtsen.
He elaborates to VG that "it is enough that someone mows the lawn", then Filip is put out. It happened in Italy in July when they were on altitude training in St. Moritz. The runner from Sandnes had clogged airways. They were obviously not a problem in Skien on Sunday morning. He ran elegantly from everything and everyone. For 9.5 kilometers he was alone in front.
– It has been a troublesome season. Corona is one thing. But only for short periods has it worked well enough for me. Now I have to get my breathing problems in order. In that sense, I am glad that there was no Olympics in Tokyo. I was not ready, says Filip Ingebrigtsen, about the summer games that are postponed until next year due to the pandemic.
also read
Mamma Ingebrigtsen in a new book: "Strong conflict" when Jakob wanted to live together
In the stands, "Team Ingebrigtsen" was responsive. In December, two new episodes of the popular TV series will appear on NRK. His wife Astrid Mangen Ingebrigtsen and the couple's daughter Ellie (seven months) were at the forefront of congratulations.
– I'm happy with her. True, she sleeps a little at night, but luckily I get away cheap. Astrid takes care of it, says Filip.
He says it's nice to be a father. Even more handsome than he could have imagined.
– It is big. And there will probably be more children. It is "child abuse" to be an only child, says Filip Ingebrigtsen.
Henrik Ingebrigtsen was reigning champion after NM gold in Frognerparken last year. He had a strong start to the season, but has since struggled with injury – and was only now back. He had to give a hatch to the best already after a couple of minutes of running and realized early on that he could not fight with the best. Ingebrigtsen was finally number seven, one minute and 26 seconds behind her brother in gold.
– After the Boysen Memorial at Bislett in June, I got an insect bite on the ankle with subsequent fever and swelling. Before Monaco I got things in place, but was bothered by sick pain, and had to break the race. It is only a couple of weeks since I started training again, and only last week did I get to run intervals, says Henrik Ingebrigtsen.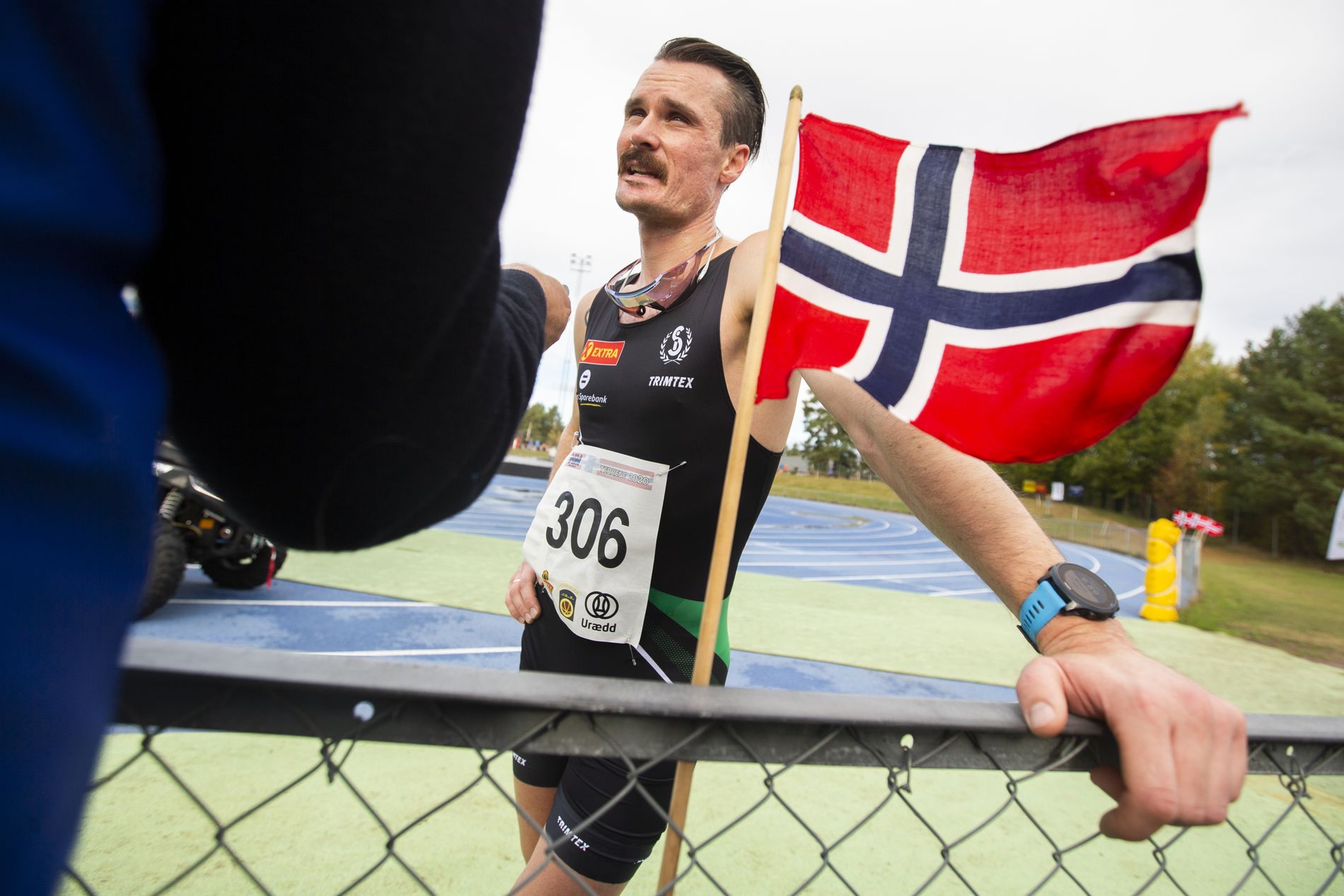 Triathlon athlete Casper Stornes and Magnus Tuv Myhre fought for a long time to become number two behind Filip Ingebrigtsen, but eventually the special runners became too strong for Stornes. First-year senior Myhre took the silver, while Jonatan Vedvik got bronze. Stornes finally had to settle for 6th place.
also read
The acid took Warholm when he went for the year's best in the world in 400 meters
Results:
NM cross-country long distances in Skien Sunday:
Men & # 39; s Senior 10 km:
1) Filip Mangen Ingebrigtsen, Sandnes 29.23, 2) Magnus Tuv Myhre, Brandbu 1.04 min. behind, 3) Jonatan Vedvik, Tønsberg 1.15.
… 7) Henrik Ingebrigtsen, Sandnes 1.26.
Women & # 39; s Senior
1) Karoline Bjerkeli Grøvdal, Tjalve 19.04, 2) Maria Sagnes Wågan, Tjalve 1.18 min. back, 3) Silje Fjørtoft, Ullensaker / Kisa 1.46.
VG Discount Codes
A commercial collaboration with kickback.no