Igor Cosso (Photo: Playback / YouTube)
In the cast of "Save yourself who can", Igor Cosso revealed that for a long time he hid relationships for fear that his sexual orientation would harm his acting career.
– At 19, I took my first step and won my first TV role. I was really happy, I went there to work and, in the first days of recording, I was all excited, I understood that what was natural for me could be fatal for my career. I read in the magazines and newspapers big people in the market saying that an actor of my profile could not be gay because otherwise he would never work again – he said, in a video posted on the TEDx Talks channel, on YouTube.
Igor also said that he saw famous actors doing everything they could to not realize that they were gay:
– They needed to work, and I also wanted to work. So, I started to swallow a lot of sexist joke that I heard. I didn't socialize at all with my co-workers, I kept hiding my boyfriends, I kept answering questions like: "What does a woman have to have to win you over". That was my daily life.
FOLLOW THE COLUMN ON THE NETWORKS
No Twitter: @PatriciaKogut
No Instagram: @colunapatriciakogut
No Facebook: PatriciaKogutOGlobo
The actor then reported an episode that shook him deeply:
– A journalist published that there was a gay actor in a job that I did, that was me, and that, if that actor wanted to grow up, he had better hide, better not to go out on the street anymore. I was 19 years old. When people started sharing this news, I was desperate. I thought my dream was being taken away from me. I felt a pain, I thought I couldn't be an actor there anymore.
Then, he claimed to have been a victim of homophobia in his professional environment:
– A few days after that news came out, I went to record, I was already scared to death. purpose: "the fagot has arrived". And everyone around began to laugh.
The actor commented that he held back the crying to record the scene:
– As soon as it was over, I went home and collapsed. I was finished. I was ashamed. This has happened more often at some job in my life. Sometimes, not with me, but with a colleague of mine.
Cosso assumed to be gay in June this year with an Instagram post, in which he revealed his relationship with Heron Leal. He says that since then, a lot has changed:
– Now I have over one hundred thousand people supporting my work on social networks, where everything happened. My grandmother, who I was terrified of knowing about my journey, sent me such beautiful messages supporting me that I will never forget. While doors can close for me, there are beautiful windows opening.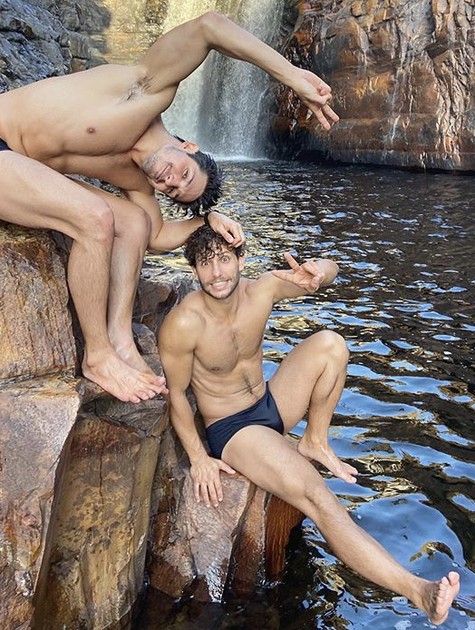 Igor Cosso and her boyfriend, Heron Leal (Photo: Reproduction / Instagram)