The Olinda Health Department has scheduled a series of free activities this Saturday (17th), a date alluding to the National Day to Combat Syphilis and Congenital Syphilis. The mobile consultation bus will provide guidance on the disease and rapid testing on the edge of Bairro Novo, in Olinda, from 8 am to 5 pm. The third Saturday in October of each year is dedicated to mobilizations for the National Day to Combat Syphilis and Congenital Syphilis. The action is part of the weekly schedule of the secretariat, to emphasize the importance of diagnosis and treatment of the disease.
The purpose of the mobilization week is to alert the population to ways of prevention, treatment and the importance of early diagnosis of the disease. "When we take these actions out on the street, we are able to capture many people who have never been tested, and do not even know what syphilis is. So we have the opportunity to inform that person what syphilis is, how it is transmitted, and the opportunity to call that person to do the testing. And this has a great impact on the syphilis curve, which in the municipality of Olinda has been falling since 2018 ", says Rebecka Barboza, a sanitary nurse and coordinator of the IST / AIDS program at the Olinda Health Department.
Syphilis
Syphilis is a Sexually Transmitted Infection (STI), which goes through three stages and can get worse if there is no adequate treatment. The diagnostic test must be performed by all sexually active people, especially pregnant women, as congenital syphilis, where it is passed from the infected mother to the child, can cause abortion, illness and irreversible sequelae to the child. The disease is curable and must be treated correctly by health professionals. Diagnosis and treatment are offered free of charge in the Unified Health System (SUS).
Action Locations
The action takes place at the health kiosk, located on Avenida Marcos Freire, near the square of the former Army Headquarters, on the edge of Bairro Novo. In addition to the waterfront kiosk, the actions will take place simultaneously in six primary health care units in the municipal network, such as Cohab / Peixinhos, Caixa D'Água, Cidade Tabajara, Jardim Fragoso, Beira Mangue and Jardim Brasil II; besides the João Barros Barreto Polyclinic (Carmo), Rio Doce II, São Benedito e da Mulher, in Varadouro.
See too
Coronavirus
Covid-19 cases are expected to remain high in summer, according to Fiocruz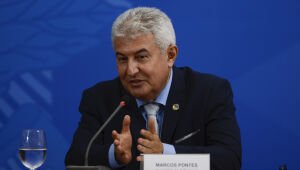 News
Minister seeks funds to set up new scientific module in Antarctica