The vaccine against Covid-19 is still under development. However, in Brazil, planning for the population's immunization by the Unified Health System (SUS) is already underway. André Longo, Health Secretary of Pernambuco, participated in a meeting with the Ministry of Health (MS), to discuss the Covid-19 immunization campaign.
The secretary detailed excerpts from the meeting with the MS at a remote press conference held by the Government of Pernambuco on Wednesday (14). At the meeting, which also took place this Wednesday, the ministry, according to Longo, reported on the delivery of the vaccination plan in November and discussed how it will be distributed to priority groups to receive the vaccine as soon as it is available.
Longo said that the meeting was attended by executive secretaries from the Ministry of Health, Anvisa, Fiocruz and Datasus. "The Ministry informed us that the national vaccination plan should be announced in November, including an analysis of the groups most susceptible to the disease that will be a priority to receive the vaccine as soon as it is available," said the State Secretary of Health. however, it did not say what the priority groups would be.
"The idea is to have a strict control of the application of the doses of the immunizer, with screening of the entire immunized population", explained André Longo.
Brazil joined an international initiative by the World Health Organization, the Covax Facility. However, according to the secretary, the country has "two more promising initiatives". Longo referred to the advances made by the Butantan Institute and the Oswaldo Cruz Foundation (Fiocruz), which work in partnership with vaccines developed in research carried out by China and England, respectively.
"Butantan is expected to supply about 46 million doses of the vaccine in December. Fiocruz's perspective is to supply around 100 million doses over the first half of 2021", informed the secretary.
In order to reach the distribution phase, vaccines will still go through the registration and security process required by Anvisa (National Health Surveillance Agency). "These are promising news that we will follow, through Conass (National Council of Health Secretaries), over the next few weeks", according to André Longo.
See too
Cheers
SUS: more than 130,000 people have recovered from hepatitis C since 2019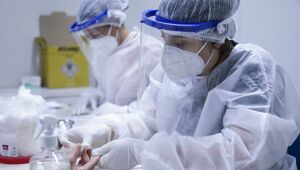 report card
Covid-19: Brazil has 749 deaths and 27,200 new cases in 24 hours