Saturday afternoon, Christian André Pettersen and his new gold trophy came home to Sandnes. Now he will treat himself to a few days off, before he looks forward to the world final in Lyon.
also read
Here is the menu Christian André Pettersen won Bocuse d'Or Europe with
He has floated a bit on the three flights home from Tallinn. There was simply no time to sleep until Saturday night, after Christian André Pettersen took gold in the European Bocuse d'Or final for the second time.
– Now I will first and foremost go home and sleep. Then I will spend some time answering text messages and congratulatory messages on social media, I simply have not had time to go through everything yet. I am very grateful that so many have supported me, it has meant a lot. It has been tough times, and many good players have worked hard to get us to the European Championships, says Pettersen.
It went hand in hand after the prizes were handed out in the arena in Tallinn on Friday night. First interviews and conversations with colleagues who wanted to congratulate and comment on the achievement, then gala dinner, then straight to the airport at four o'clock at night.
Despite lack of sleep, Pettersen is happy and satisfied, both with his own efforts and with the event in general.
– I am positively surprised by how the final was conducted. There were very good routines in terms of infection control, there were tents for quick testing in the arena and quarantine schemes for those who were waiting for test results. The competition itself also went well, even though we had some technical problems with a freezer that switched off, says Pettersen.
Focused on reuse
With a tighter economy and uncertain future prospects in mind, the Norwegian team focused on reuse instead of having a completely new barrel designed this time. In addition, Pettersen made a slightly different twist than what has previously been common on the plate, and set it up as one would typically do in a restaurant, instead of presenting a number of stand-alone elements. He himself characterized this as gambling, but obviously hit the mark with the 20 judges. He does not rule out that this way of solving the tasks can inspire other countries to do something similar.
– You have to think a little differently in these times. Maybe people dare to experiment a little more in the future, at least in the European final. Then you just have to qualify for the world final, and the most important thing is to end up among the top ten. Maybe people stick a little more to the tried and tested when it really matters, in Lyon, says Pettersen.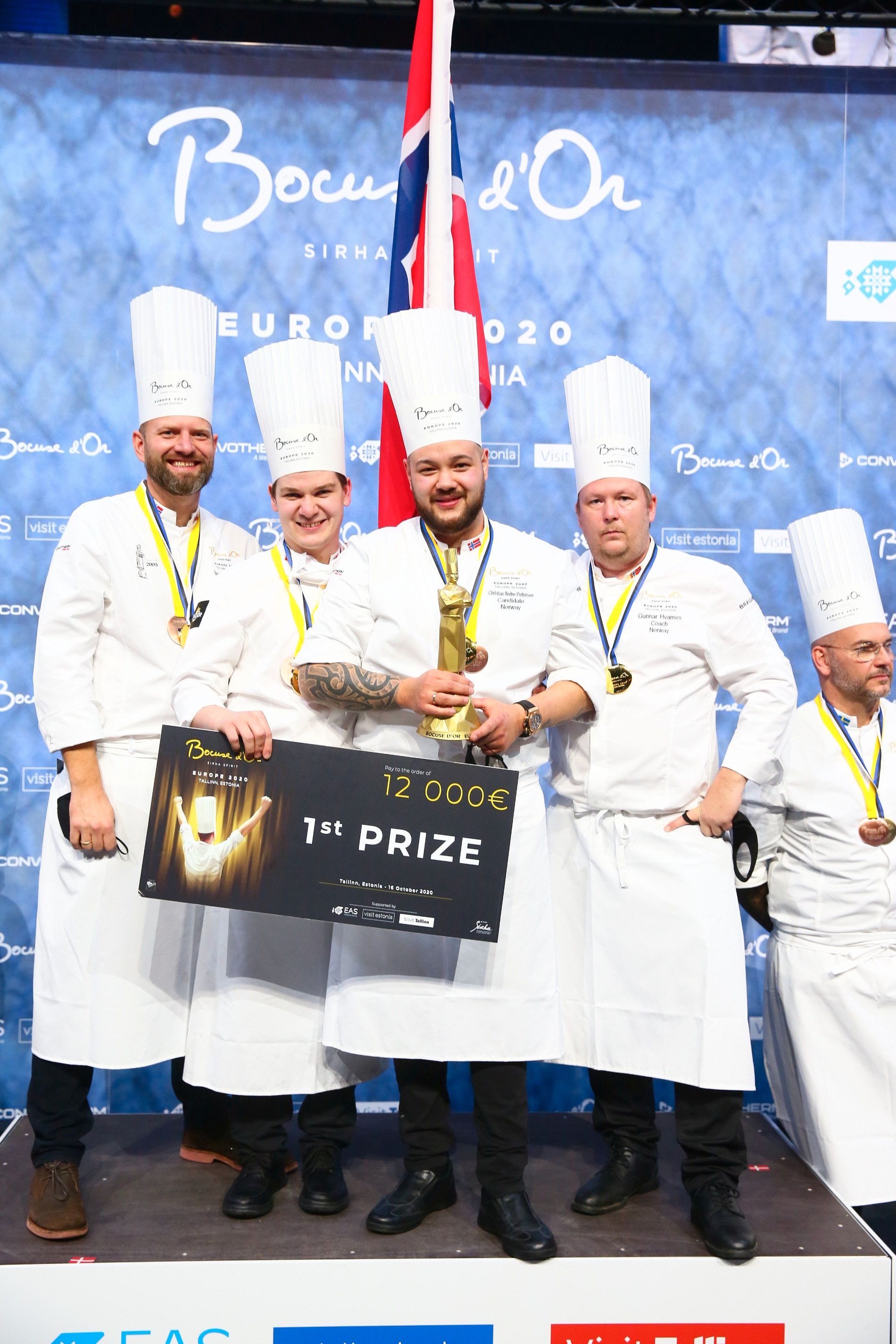 Old dream
Now he is looking forward to a few days of relaxation, before he has to start planning the rest of the autumn and not least the training race leading up to the world final in Lyon in June. What he intends to dish up for dinner these days, he is not entirely sure, but it will hardly be elaborate dishes of quail or eel catfish, which were the main ingredients in the competition.
– I think it will probably be something quite simple with shellfish, or really good home cooking, preferably some long-term fried meat, says Pettersen.
He is happy that his body and psyche will get the competition a little at a distance before he starts again. Because it is obviously hard to compete at this level. Maybe especially since he is about to start a new world final for the second time in a row.
– This is something I have dreamed of since I was nine years old. I promised my father before he died that I would be the best in the world. It has become an obsession for me. I can not settle down with the bronze place from 2019. I do not have a need to show that I am the best, but this has been a dream for so long, that I just have to finish. I have spent 13 years of my professional career on this, so if I set aside two more years, it does not matter, says Pettersen.