The BepiColombo spacecraft, launched in October 2018 and the result of a partnership between the European space agency ESA and the Japanese JAXA, had two scheduled flights over the planet Venus, all in order to get a gravitational boost in order to accelerate its trip to Mercury, its destination Final. Now, ESA has confirmed that the first flight over the "infernal planet" has just happened, being 10,720 km away from the surface.
The spacecraft actually needs nine gravitational impulses of the type on its journey, one on Earth, two on Venus and six on Mercury, before entering orbit around the smallest planet in the Solar System – which will happen in 2025 A solar electric propulsion system on board the spacecraft helps BepiColombo in its orientation, ensuring that it is not attracted by the Sun's gravity.
The first flyby (the one on Earth) took place in April this year, when BepiColombo took the opportunity to present us with beautiful photographs of our planet. Now, Elsa Montagnon, mission operations manager at ESA, confirms that "the overflight [em Vênus] it was very successful. "And, of course, the probe took some pictures at this point, firing two of its three cameras for a few hours.
ESA explains that "from a distance, Venus is seen as a small disk in the camera's field of view, close to the spacecraft's body and, during the closest approach phase, the planet dominates the view". See the two images below:
During the overflight, by the way, BepiColombo kept several of its scientific instruments active, taking advantage of its proximity to Venus to collect valuable data – even more now, considering the recent detection of phosphine in the Venusian atmosphere. After all, if there is a probe going through there, it is the perfect opportunity to try to assess the presence of this possible bio-signature, while agencies like NASA and even private companies like Rocket Lab, prepare their own investigative missions that will travel there in the coming years. years.
"We will have to be patient while our Venus specialists carefully examine the data, but we hope to be able to provide some temperature and density profiles of the atmosphere, information about the chemical composition and cloud cover, and about the interaction of the magnetic environment between the Sun. and Venus ", explains Johannes Benkhoff, mission project scientist at ESA. However, he also says that the agency should only release results of these analyzes next year, hoping to bring them together with those that will be obtained in the next BepiColombo flyover by Venus – something scheduled for August 10, 2021, when the ship will be just 550 km from the planet's surface.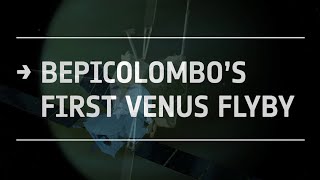 Fonte: ESA
Did you like this article?
Subscribe your email to Canaltech to receive daily updates with the latest news from the world of technology.