The State Department of Health (SES) publishes this Wednesday, 14, the epidemiological bulletin of the coronavirus, with 193 cases and six new deaths. In Sergipe, 80,427 people have tested positive for COVID-19 and 2,113 died. All six deaths were under investigation and were confirmed. To date, 73,541 patients have been cured.
Half of the deaths are from Aracaju, all from women: 53 and 95 years old, both with hypertension; 93 years old, with hypertension and alzheimer.
The deaths in the countryside are all men: 51 years old, resident of Nossa Senhora das Dores, without comorbidities; 76 years old, from Estância, with diabetes; and 80 years old, resident of Nossa Senhora da Glória, with hypertension and diabetes.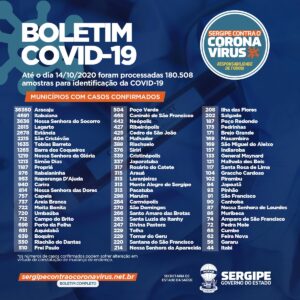 180,508 tests were performed and 100,081 were negative. 207 patients are hospitalized, 94 in ICU beds (71 in the public network, 69 of which are adult and 2 pediatric; and 23 in the private network, 22 of which are adult and 1 pediatric) and 113 in clinical beds (93 in the public network and 20 in the private network). Five more deaths are investigated. 687 collected exams are still awaiting results.
More details about the new Covid-19 epidemiological bulletin at sergipecontraocoronavirus.net.br.
Newsletter in Aracaju
The Municipal Health Department of Aracaju informs that until 6 pm on Wednesday, 14, 93 new cases of Covid-19 were registered in the capital and three deaths. Three women: 95 years old, hypertension (death on the 13th); 93 years old, hypertension and alzheimer (death on the 11th); 53 years old, hypertension (death on the 13th).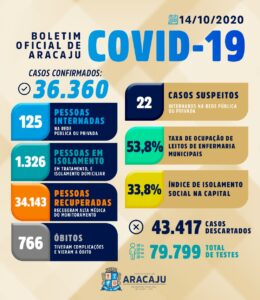 Of the new confirmed cases, 52 are women, aged between one and 95 years; and 41 men aged between two and 76 years.
As a result, the number of people diagnosed with Covid-19 in Aracaju rises to 36,360. Of these, 125 are admitted to hospitals; 1,326 are in household isolation; 34,143, who were infected are already recovered; and 766 died.
There are 22 suspected hospitalized patients awaiting examination results. 43,417 cases out of a total of 79,799 tests were discarded.
With information from SES and SMS