A teacher who had taught about free speech and displayed caricatures of Muhammad was beheaded in a Paris suburb. A total of nine people have been arrested and an 18-year-old shot by police.
French police on Friday night confirmed reports in the French media, including Le Parisen, that the teacher had used the controversial caricatures in teaching.
A number of media outlets state, on the basis of police sources, that the victim was beheaded. This has so far not been officially confirmed by French police.
The suspected perpetrator was shot and killed after behaving threateningly, police say.
The man's identity has not been officially confirmed, but according to a source with the French prosecution, it is an 18-year-old Chechen.
AFP is informed that he shouted "Allahu Akbar", which means "God is greatest" in Arabic.
Sources inform AFP that four people, including a minor, have been arrested after the attack. They must all be related to the suspected perpetrator. On Saturday morning, the news agency reported that another five people have been arrested.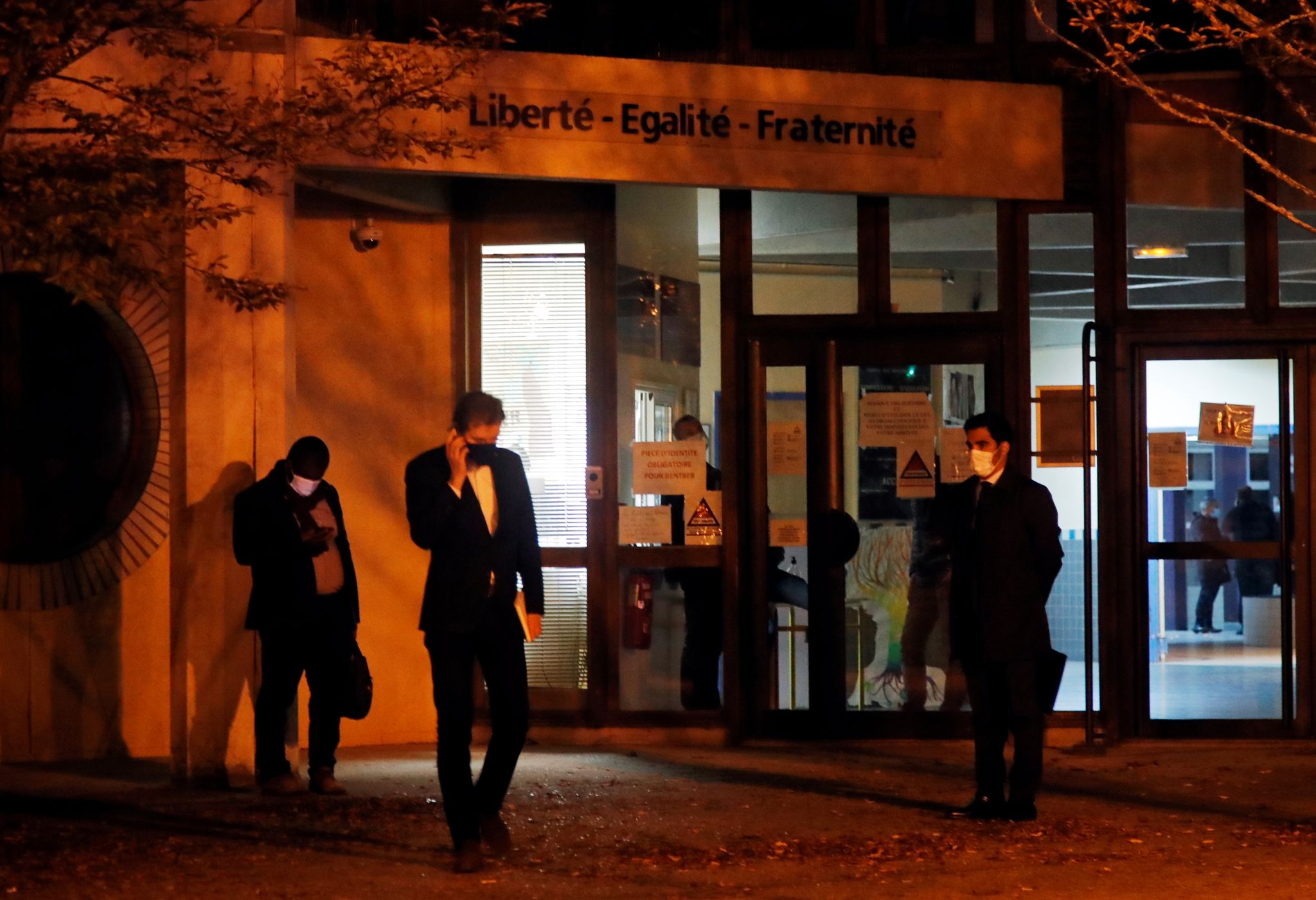 Had taught about freedom of speech
The President of France, Emmanuel Macron, arrived at the scene at 9.40 pm. After receiving information from the police, he met with the press.
"One of our countrymen was killed today because he taught about freedom of speech, the freedom to believe or not believe," Macron said.
Macron says France must not allow itself to be divided by the killing, because that is "what the extremists want".
– We must all stand together as citizens, he said.
Police sources inform the AP that the teacher had been threatened after he had encouraged a debate about the caricatures ten days ago.
The president described the killing as an attack on the republic. He said that all French people are now behind the country's teachers.
The teacher worked at a secondary school in Éragny northwest of Paris.
"Murder linked to terrorist organization"
The attack took place around 5pm at a secondary school in Conflans-Sainte-Honorine, a suburb northwest of the French capital.
Police say they are investigating the incident as "a murder linked to a terrorist organization". They rushed to the scene after receiving a phone call about a suspicious man who was staying there.
The police patrols found the suspect 200 meters from the victim, who according to several French media was beheaded. This has not been officially confirmed by the police. The news agency Reuters writes that the victim was stabbed several times in the neck area.
The suspect allegedly threatened police officers with a knife or similar weapon before he was shot by police in Conflans-Sainte-Honorine.
A bomb squad was dispatched to the scene because it was suspected that the perpetrator was wearing a bomb vest.
We further develop our articles.
Help us improve, give your feedback.
Give feedback