PHILADELPHIA (VG) They really should have met for a presidential debate. Instead, Joe Biden and Donald Trump competed for TV viewers from two parallel voter rallies Friday night.
Donald Trump's corona infection has turned several of the plans in the US election campaign upside down.
The two presidential candidates' planned debate on Friday night was first changed to a digital debate, but after Trump refused to run for office, it was canceled.
Instead, the candidates compete for the favor of TV viewers from two parallel public meetings on separate channels. Both meetings started at 02 o'clock on Friday Norwegian time:
Trump attended a meeting hosted by the NBC television channel in Miami, where he answered questions from around 60 voters under the direction of host Savannah Guthrie. The meeting was over after about one hour.

Biden did the same from Philadelphia, where he answered questions from around 20 voters under the auspices of the TV channel ABC and host George Stephanopoulos. The meeting lasted around 90 minutes.
Trump pushed for conspiracy theory
This was the first time since the corona diagnosis that Trump lined up for a lengthy interview with a channel that is not considered Trump-friendly. Before the meeting, he wrote on Twitter that he would attend a "fake NBC News" voter meeting.
And shortly after the meeting began, the president was pressured about his own corona infection by host Savannah Guthrie
The Trump administration has not said when Trump last tested negative, and it is uncertain whether he took a coronation test before the debate with Joe Biden on September 29.
– I probably took a test, and I took a test the day before. It was only after the debate that I took a positive test, Trump answered questions about whether he took a test that day.
VG special: The tipping states that decide the election
Afterwards, he was confronted with the conspiracy theory QAnon, which in short states that the United States is ruled by a conspiracy of pedophile Satanists, and that Trump is the country's rescue. Among other things, Twitter has deleted thousands of accounts linked to the theory.
"I do not know anything about QAnon," replied a clearly annoyed Trump, who had previously said that he was tired of being asked to distance himself from white power groups.
Read about QAnon on VG +: The conspiracy theory that entices women
– But I told you exactly what it was about, the host countered.
– Yes, you told me that, but that does not necessarily make it a fact. I'll tell you what I know something about: Antifa and the radical left, he continued.
– But why do you not just say that it is madness and not true?
"I do not know anything about it," Trump said, adding:
– Let's throw away the whole show, keep asking me these questions. What I hear about them is that they are strongly against pedophiles, and I agree with that, says the president.
– But the Democrats are not a satanic pedophile.
– I do not know anything about that, Trump repeats, and gets an answer from the host that "yes, he does", before she asks why he re-tweets conspiracy theories.
– I do not understand. You're the president, not someone's crazy uncle, she said.
The bid for Supreme Court extension: – Depends on
Joe Biden, who answered questions from ABC in Philadelphia, was confronted with a statement he had previously made, when he said in May that "then you are not black" about black voters who did not know if they would vote for him or Donald Trump.
– Apart from the fact that "you are not black", how would you persuade black voters to take part in a system that has failed to protect them? asked a voter in the hall.
Biden responded by proposing changes in policy in the fields of economics and education, and pointed out that he believes young African-American voters have the opportunity to influence the outcome of the election.
The presidential candidate has previously declined to answer questions about whether he supports an extension of the US Supreme Court. The court currently consists of nine judges, but some Democrats have called for expanding it by more seats in response to Trump's nomination of Amy Coney Barrett.
Alerts fast judge approval: – Little that will make the Democrats more furious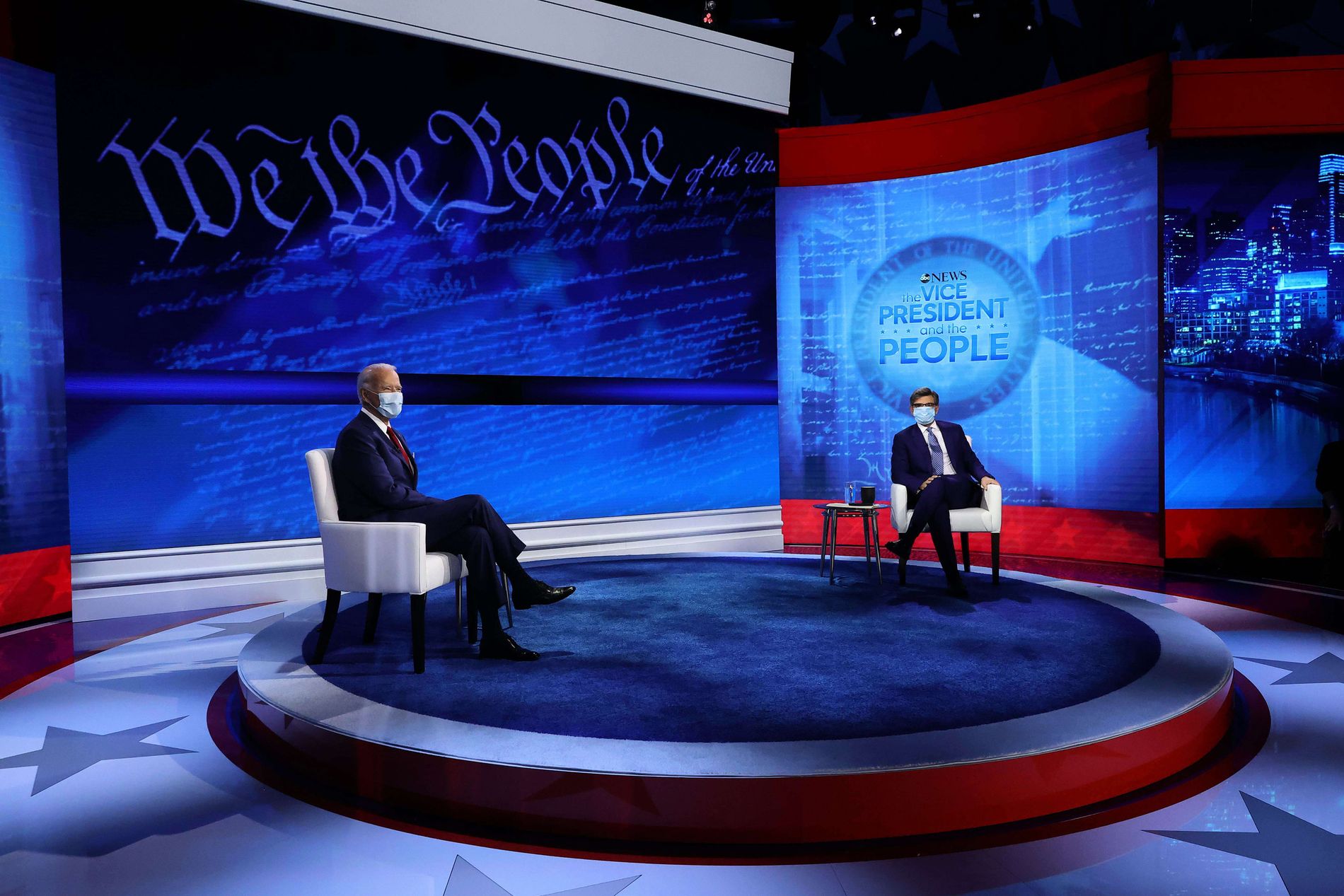 When asked by host George Stephanopoulos, Biden replied that he did not like the idea of ​​expanding the Supreme Court, because then only all the winning presidents will continue to do so. He still keeps the possibility open:
– It depends on how this ends. Not whether he wins or not, but how it is handled.
– What do you mean by how it is handled?
– If people want time to go through this. It depends on how much they rush this.
– If they make a decision before the election, you are open to expanding the Supreme Courtt?
– I am open to assess what happens from that time.
NBC gets criticism – A bad decision
The TV channel NBC was criticized before the election rallies for leaving the Trump meeting at the same time as the Biden meeting, which was already planned. More than 100 actors and producers sent a letter to the channel on Thursday, in which they write that the decision does not serve the American people, writes the New York Times.
Did you bring it with you? Kamala Harris, Head of Communications, Corona Infected
– Having voter meetings that compete with each other is bad for democracy. Voters should have the opportunity to look at both, and I do not think many will do so. This will be good for Trump because people like to look at his unpredictability. This is a bad decision, writes Katie Couric, who was previously the host of "Today Show" on the channel, on Twitter.
This can mean voter meetings
According to the news agency AP, the night's format gives the presidential candidates an opportunity to present themselves to the voters in a different way. But because TV viewers can only watch one of them at a time, the appearances may have less significance for the election itself, writes CNN.
Did you bring it with you? Facebook and Twitter limit the spread of the Biden article
If one of the candidates manages to deliver a moment that is big enough to change the direction of the election campaign, it can still be big.
– National opinion polls show that Trump desperately needs such a moment. Biden does not, the channel concludes.
The election campaign's only debate so far between the two candidates on September 30 was marked by bullshit and chaos, and led to the debate rules in the United States being changed.
According to the plan, Trump and Biden will meet for a physical debate on 22 October – the night before 23 October Norwegian time.
VG Discount Codes
A commercial collaboration with kickback.no