A wave of protests against Donald Trump's candidacy for re-election has taken hold in several American cities, including the capital Washington. Thousands of people, especially young women, defended the Black Lives Matter movement, the right to choose to abort and equal rights between men and women
Among posters and slogans, in addition to Trump, the name of Ruth Bader Ginsburg was the one that was heard most often – the progressive judge of the U.S. Supreme Court who died on September 18 and was immediately replaced by conservative Amy Coney Barrett.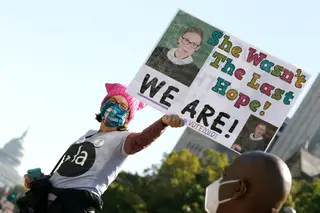 "Count on us to fight", "count on us to win", read on the posters also held by women from the suburbs, considered potentially decisive to tip the balance in favor of the Democratic candidacy.
This week, in the state of Pennsylvania, Donald Trump called for their vote but, according to the American press, it is not certain that it had the intended effect. "Women from the suburbs, can you like me, please? I saved the lightning bolt from your neighborhood ", said the still American President, before hundreds of supporters.
Trump continues his wave of rallies by swing states, hoping to counter the polls favorable to Biden. Suburban women who voted for Trump are disappointed and need to be won back by the President. In addition, "Pela Estrada Fora" still talks about faith, the vote of the homeless and the nerves of the Democratic leader in the House of Representatives
"My rights have been more violated in the past four years than in my entire life and I don't want to see this continue for another four years. It would be horrible for women in this country, "one of the protesters, Tina Atwell, told Sky News. Among those rights is abortion, which the protesters fear will be called into question after Barrett's choice.
And if the masks were already a mandatory presence at the demonstrations, due to the pandemic situation in the USA, some women added other props and dressed as servants, in a reference to the series "The Handmaid's Tale". Created from the work of Margaret Atwood, the story takes place under a totalitarian, fundamentalist regime that violates women's rights.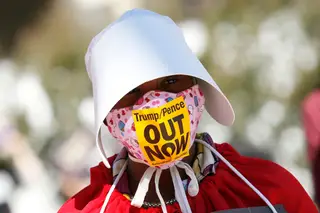 This Saturday's protest, led by the "Women's March" movement, also made reference to another. "His presidency [Trump] started with a women's march and will end with the women's vote. Point, "shot Rachel O'Leary Carmona, a member of the march organization that on January 17, 2017, the day after Donald Trump took office, was responsible for the biggest protest in America's history.