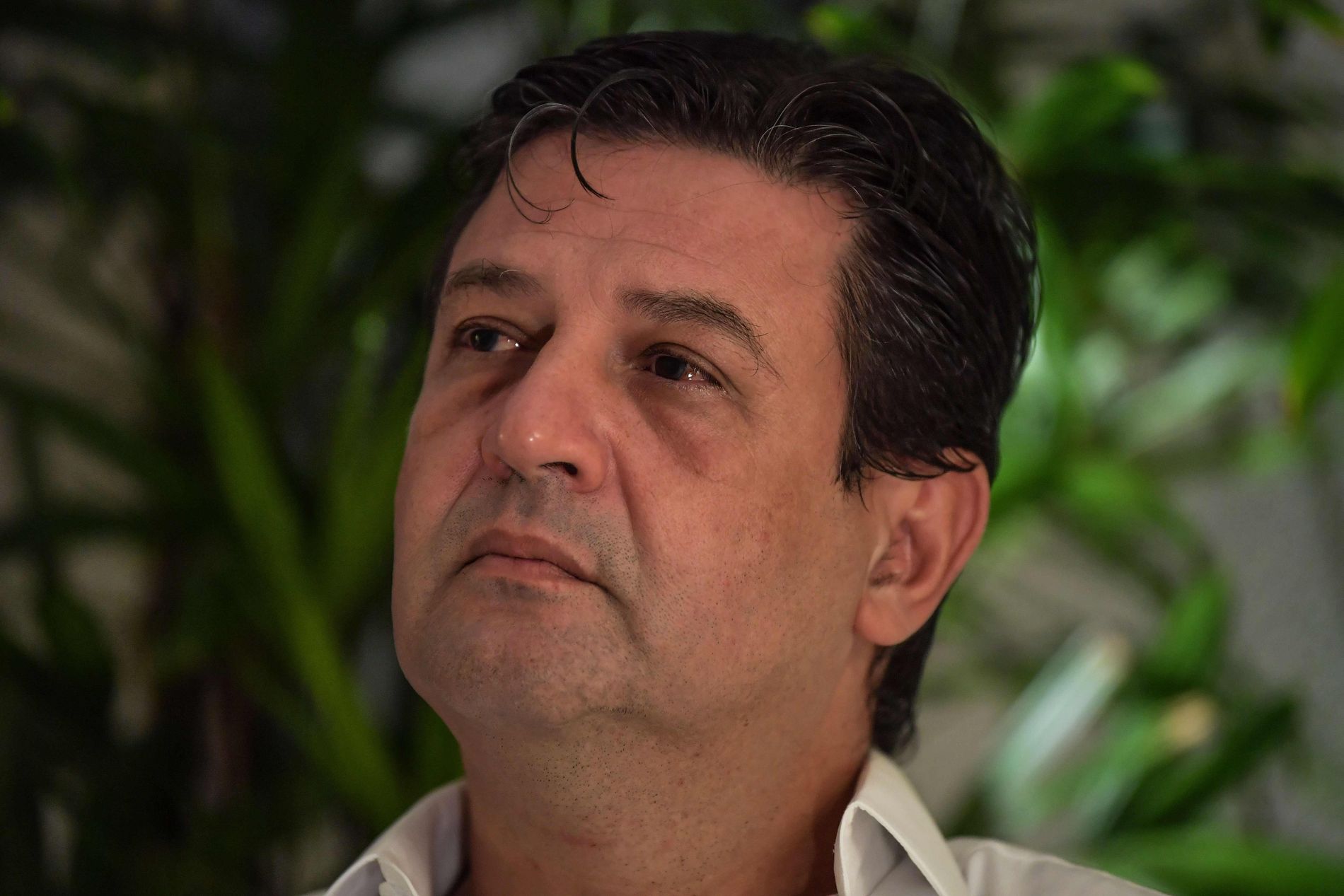 He was fired by Brazilian President Jair Bolsonaro. Now he is making a merciless settlement with the president's corona handling.
In an interview with VG via Zoom, the former minister Luiz Henrique Mandetta (55) now tells VG what happened in the back room when the Brazilian president chose his corona strategy.
Mandetta was fired after a conflict with the president over the government's handling of the virus in April. He says that while he was still Minister of Health, he made a PowerPoint and sent a letter to the president in which he claimed that as many as 180,000 people could lose their lives.
– That was the number we told the president that we were fighting against, that we had to fight to avoid. That life would be lost, we knew that, but it would be possible to avoid such high numbers if we put in tough measures, says Mandetta, who now also comes with a book about what happened.
The former health minister, who is a father of two and a doctor, describes a president who was not interested in listening to his own health minister, who retrieves political ideas from the internet, and who closely follows US President Donald Trump step by step.
– He hugged people
When the former health minister was to set up the country's strengths and weaknesses in the fight against the virus, the Brazilian president ended up on the downside.
– The way the president handled the pandemic, and especially the way he behaved, was to the advantage of the virus, he says.
He says that Bolsonaro refused to follow the advice of his own health ministry.
– We said: Avoid large crowds, he appeared in the middle of a crowd. Wear a mask, we said. He did not wear a mask. Keep your distance! He embraced people. When we had meetings and we asked him not to behave that way, he agreed. Then two days passed, and then he was up and running again.
Reaching out early with important information despite going against what the president himself said and did was a challenge, but very important, he believes.
– It helped the health service to avoid collapse in the first two months, and gave time to create new bed posts, and provide important equipment.
also read
Half of Brazilians do not blame Bolsonaro for corona deaths
"A little cold"
The president's handling of the coronavirus calls Mandetta pure denial.
On March 25, the president gave a live television speech to the Brazilian people. In his speech, he called the virus "a small cold." The reactions were strong, and sparked a wave of protests in which people smashed pots and lids from their windows in the major Brazilian cities.
– That speech was so poorly received by the Brazilian community that only one or two days later a government meeting was held, and it was the first time I experienced that almost all the ministers present agreed that that speech should not have been given , says Mandetta.
– Many of the ministers heard this speech for the first time when they turned on the TV, he says.
also read
Coronasyk Bolsonaro claims miracle cure has made him "absolutely fine"
Mandetta claims Bolsonaro to a small extent sought advice on the pandemic from his own ministers.
– The president has around him a group of people who are very close, who have no formal position within the government, it is his sons, people he worked with during the presidential campaign, and people with a background from the internet. He really likes this virtual world, he says.
– You know, there are people who just listen to those who say what they want to hear.
Visited Trump
Bolsonaro has never hidden his admiration for Donald Trump, and when asked if he thinks the US president has influenced Bolsonaro's corona policy, Mandetta is clear:
– Very. Very.
– I well remember that they traveled to the United States in early March, to Florida, where they met Trump. A dinner was held at Trump's resort in Mar del Lago, and after this visit, when the president returns, several in the entourage will present his symptoms of the disease.
Twitter trouble
Trump har formerly called the coronavirus "the Chinese virus", and Mandetta says that Bolsonaro in conversations with him openly expressed what he calls conspiracy theories.
– Yes. He said things like "that's a Chinese thing," and "it comes from that gang there." In its characteristic way, but it was not an in-depth analysis, it was not.
When one of the president's sons tweeted disparagingly about China, and the Chinese ambassador responded with the same coin, the former health minister says it led to difficulties for him.
– At that time, I needed a good relationship with China to get hold of important medical equipment, he says.
Mandetta had to go through a third party (the Pan American Health Organization) to gain access to the Chinese products.
– Both Trump and Bolsonaro are trying to find someone to blame, he continues.
– First China, then the World Health Organization. When Trump began criticizing the governors of the various states for his actions, the president of Brazil immediately began criticizing the governors here, especially in São Paulo, our largest city. They react the same way all the way.
– Difficult choice
The former Minister of Health paints a slightly flattering picture of the president who led the government he himself sat in. That he himself agreed to become part of the government, he explains as follows:
– The voters were faced with a really difficult choice, on the one hand Lula's party PT, a moral catastrophe, after years of endemic corruption, and on the other hand an alternative that represented a breach, which in many ways was a vague alternative. It was completely unpredictable how it would go, he claims, an assertion many of Bolsonaro's critics will probably disagree with.
Rejects that he is disloyal
At the same time, many of Bolsonaro's supporters see Mandetta as disloyal and one who is now trying to exploit the popularity he had when he resigned to advance his own political career. Mandetta does not agree with:
– Loyalty goes both ways, he says.
If not, it's submission. And I'm loyal to my country. I am loyal to Brazilian society.
He himself believes that he did nothing but act on the knowledge he had.
As a doctor, he believes Bolsonaro lacks empathy.
– In a situation where there is no cure, and you can not control the pandemic one hundred percent, you should at least stand by the patient, he says.
– I did not see this solidarity with the families who were affected at any time.
– Do you want to vote for Bolsonaro if he goes to the polls in 2022?
– I just hope that I am not faced with the choice between Lula and Bolsonaro. I hope for a democratic alternative that is better than that.
VG Discount Codes
A commercial collaboration with kickback.no
---
Source link by https://www.vg.no/nyheter/utenriks/i/GaGBeJ/brasils-tidligere-helseminister-om-bolsonaro-han-kan-ikke-si-at-han-ikke-ble-advart
*The article has been translated based on the content of Source link by https://www.vg.no/nyheter/utenriks/i/GaGBeJ/brasils-tidligere-helseminister-om-bolsonaro-han-kan-ikke-si-at-han-ikke-ble-advart
. If there is any problem regarding the content, copyright, please leave a report below the article. We will try to process as quickly as possible to protect the rights of the author. Thank you very much!
*We just want readers to access information more quickly and easily with other multilingual content, instead of information only available in a certain language.
*We always respect the copyright of the content of the author and always include the original link of the source article.If the author disagrees, just leave the report below the article, the article will be edited or deleted at the request of the author. Thanks very much! Best regards!