The President of the United States, Donald Trump, sent letters to the American population with guidelines for fighting the coronavirus. Among them are the recommendation to stay at home and to avoid contact with the elderly.
Titled "President Trump's Coronavirus Guidelines for America," the letters are dated March 16 and present serious advice validated by the Centers for Disease Control and Prevention (CDC).
Staying at home, not working sick and avoiding meetings and events with more than 10 people go against what the president says in his public statements. On Tuesday, Trump said he hoped to end isolation restrictions by Easter on April 12.
He said more than once that healthy people can go back to work, in addition, he argued that many Americans will be infected with the disease but will have few or none of the symptoms.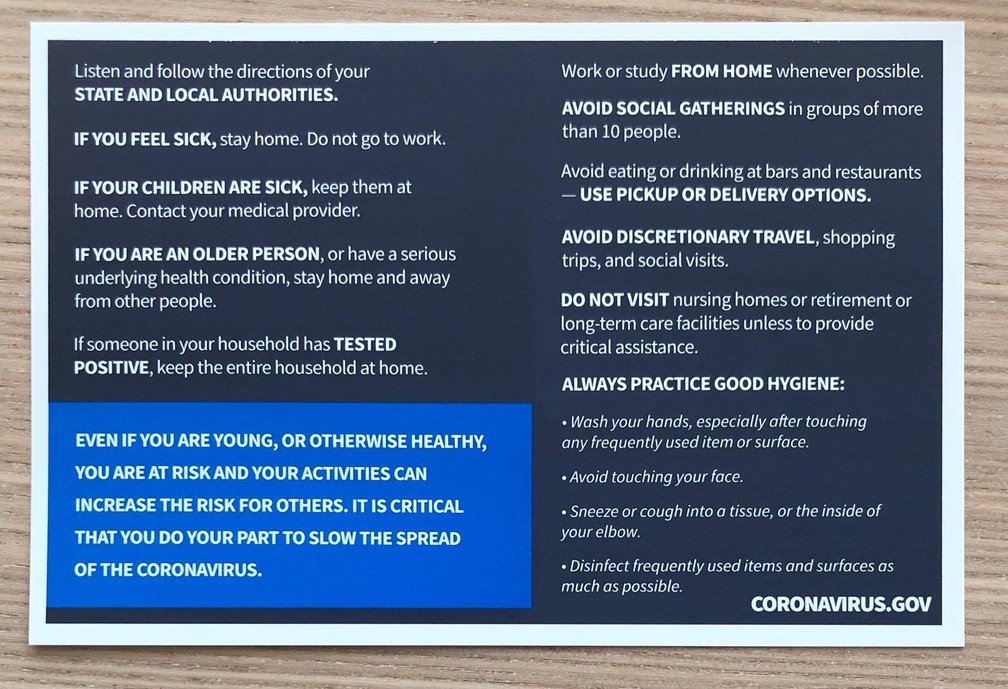 Letter signed by Donald Trump presents guidelines to the American people on combating the new coronavirus delivered in Florida, USA. – Photo: G1
"Even if you are young, or healthy, you are at risk and your attitudes can increase the risk for others," says the document. "It is important that you do your part to reduce the spread of the coronavirus."
The letter sent by Trump presents 11 pieces of advice to be followed by the Americans to help stop the expansion of the new coronavirus in the country, which this Thursday (26) passed to China and became the one that has more confirmed cases of Covid-19 in the world (see advice below).
Listen to and follow the determinations of states and local authorities
Do not go to work if you have symptoms
Do not leave home with sick children and call for medical assistance
Elderly and chronically ill patients should stay at home
Total isolation from the family if a Covid-19 case is confirmed
Work and study from home whenever possible
Avoid social and group meetings with more than 10 people
Avoid bars and restaurants, give preference to delivery and "to go"
Avoid unnecessary travel, shopping or tourism
Do not visit nurseries or nursing homes
Always practice good hygiene
The letter does not, however, cite the experimental remedy that Trump even cited in one of his press conferences at the White House. The drug is indicated for the treatment of malaria and is not indicated by the World Health Organization (WHO) to combat Covid-19.
The United States has so far registered more than 82,000 confirmed cases of coronavirus and at least 1,000 deaths from severe acute respiratory syndrome. In the last 24 hours alone, there have been 237 deaths, the highest number since the epidemic began in the United States.
Trump says expansion of tests explains rise in US coronavirus cases
Source link
https://g1.globo.com/mundo/noticia/2020/03/26/em-carta-presidente-trump-pede-para-americanos-ficarem-em-casa-por-coronavirus.ghtml